After taking the past couple of weeks off from WIAW, I felt like jumping back in on the fun.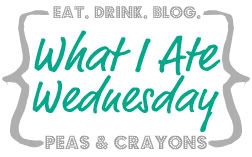 It's not like it was all that exciting of a day of meals, but I did wind up snapping photos of them all yesterday so I figured, eh, what the heck. I always love being nosey and seeing what others are eating too.
Breakfast
Was pretty much the nastiest thing you've ever seen…
Blech. I made a batch of overnight oats, which had soaked up all of the liquid overnight and needed a little extra almond milk. But, apparently, not that much almond milk. They tasted alright, and an extra spoonful of peanut butter added in helped, but they still were definitely not exciting. Good thing my iced coffee was decent…and check it out, I didn't go to Dunkin' for a change!
Mid-Morning Snack
The always-favorite PB + banana combo.
I'll tell ya…I need to start buying chunky peanut butter more often. I know I like it, but we usually buy the huge jars from BJ's and Jay only likes creamy. But now I'm thinking that my work PB stash may just have to be chunky.
Lunch
A big veggie-filled salad topped with grilled chicken and avocado with balsamic dressing and croutons.
And as a side note, if you've never purchased Butter Bliss lettuce, you MUST. No affiliation there at all. Just trust me you'll try it. It's SO good.
Mid-Afternoon Snack
Three belVita blueberry breakfast biscuits. Yes, the package comes in 4, but I was hungry on my way out the door for work and wound up ripping open the package and eating one then.
Maybe one of these days I'll actually make myself enough time to eat breakfast at home before leaving for work.
Haha. Yeah…riiiiight.
Pre-Dinner Snack
Since Lucas has started eating more "adult" food and less baby food, I totally see how parents can say they wind up "snacking" more. Extra crusts from his PB&J sandwich? Don't mind if I do!
Luckily, I've taught him to share his food with mama and he's okay with it.
Kidding. Sort of.
Jay wound up getting called out for work unexpectedly, putting our dinner on hold. Since I was getting pretty hungry and wasn't sure when he'd be back, I snacked on some of the tomato and basil FSTG crackers below.
And while I waited, I spent some time playing peek-a-boo with this handsome little guy.
That right there is his new thing…he "hides" behind his toy bucket with all of his stuffed animals with him. He seriously knows how to make me laugh.
Dinner
Once Jay got back, we fired up the grilllll.
Steak kabobs with zucchini, onions, and tomatoes, along with some parmesan noodles from a bag. Don't knock 'em. They're good.
Dessert
As of the time I'm typing up this post, dessert is yet to be had. But if it's anything like my dessert of choice on Monday, it'll most likely be this. Mmm mmmmm.
Happy Wednesday, my friends! Halfway there!