Goooood morning! Happy Wednesday to you all. I've gotta say…looooove reading all about your May workout goals in the Reebok giveaway post (if you haven't entered yet, be sure to check it out!). You're all motivating me a bit more just by reading them…in fact, I actually wound up busting out a quick living room circuit last night in the living room with my weights (and ever-growing body weight), which looked a little something like this:
(15 reps x3 sets of each)
squats

pushups
deadlifts
overhead tricep presses
lunge with bicep curls
plie squats
lateral shoulder raises
Woweeee. And let me tell you…I was wiped. Workouts are becoming more and more humbling these days…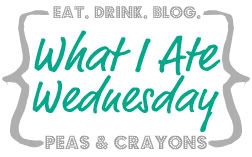 But hey, I did it! So props to meeeee. ;)
So said workout above actually took place in between both of my dinners last night, so let's use this perfect segue to get to the good stuff…it's What I Ate Wednesday Tuesday.
Breakfast
Two pieces of whole wheat toast with peanut butter and banana.
Always a simple and delicious choice.
Mid-Morning Snack
A pineapple Chobani.
Again, apparently simple and easy was my motto yesterday morning.
Lunch
Check out thiiiiiiis salad.
Believe it or not, I actually threw this together yesterday morning before work in about 5 minutes. I hadn't taken any time on Monday night to prep ANYTHING, but somehow I wound up with this killer combo.
It included romaine, cucumbers, baby carrots, grape tomatoes, avocado, strawberries, dried cranberries, and pecans. And you know what I JUST realized as I was typing this…I totally forgot my feta cheese! Aww man, that would have made it even better. Ahh well.
Post-Lunch Dessert
So, funny story.
I had to run out on my lunch hour yesterday, but before leaving, I noticed that we had a lunch getting catered for a small group of people from Panera. I got talking with one of my super-sweet co-workers who was setting it up, and started joking with her that I was going to steal one of the cookies from the box. She told me to take one but I said that I couldn't…HOWEVER, I told her that if it was meant to be, there would be one leftover and she could save it for me.
Turns out, it was meant to be. :)
I started out by telling myself I'd only eat half…
And that worked for about an hour and a half. But then I realized, umm yeah, who am I kidding?!
And I ate the other half.
SO delicious. So worth it.
Dinner #1
All day long yesterday I was craving eggs for dinner. I've missed not being able to eat them as much as I used to when I was at home, so since I don't give myself the time to eat them in the mornings, I figured I'd have some for dinner. Jay, on the other hand, wanted leftover pulled pork so while he was heating that up for himself I wound up snagging a couple of bites, cold, right out of the container.
Then, I ate my eggs and drank my pineapple orange juice.
For the eggs, I scrambled up two of them and mixed them up with lots of veggies (spinach, broccoli, tomatoes, and onion) and feta cheese.
It totally hit the spot. Definitely what I needed.
Dinner #2
Since dinner was somewhat light, I did wind up getting hungry again a couple of hours later, so I made myself a mug of cereal with almond milk.
I actually ate my cereal while Jay and I did a bunch of research for our Babymoon, and we have good news…
We're heading to Portsmouth, NH!!! :)
We went back and forth on a few different options, but ultimately decided on Portsmouth for a few different reasons:
We found a couple of hotels at good prices, and we're actually staying at two hotels for one night each. We realized we had enough points on one of our credit cards to get a free night at one hotel so we went for it.

Both hotels are right in the downtown area.
Technically, we've actually already been to Newport, RI but it was before we were married so it's not on our adventure map. (I'm starting to think we should add the states we visited pre-marriage though…we'd have like, 4 or 5 more to include!)
Where we're staying is only about 15 minutes away from the Kittery Outlets in Maine, so we're going to knock TWO states off our list in one weekend.
We mayyyy also hit up Quincy Market in Boston on our way back home, too. We'll see how the weekend is going.
Needless to say, I'm SUPER excited…and we'll be heading out in just a few short weeks!
That being said, if anyone else has any must-see or must-do things in Portsmouth, please let us know! :)