Well…looks like I'm back sooner than I thought! Lucas was down for the count yesterday after having his shots and passed out in his car seat for a good hour, so that extra nap time gave this mama a little extra time for a workout, some cleaning, and this here blog post.
BUT, first things first…thank you all so much for the kind comments and virtual hugs yesterday. They were much needed and really meant a lot.
So now, switching gears a bit…I've actually got a WIAW post for you all!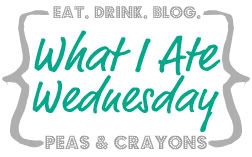 Today's post actually features all of Monday's eats, so let's go ahead and take a peek.
Breakfast
A Thomas' corn English muffin (yummmm) topped with Justin's Almond Butter and banana slices + coffee
Wow, talk about crappy photos here. Sorry 'bout that my friends.
Lunch
My mom and I went shopping with Lucas late Monday morning in an attempt to find me some dress pants for heading back to work. Let me just say…pants shopping when you're in between sizes is no bueno! Luckily, I found a few pairs at The Limited, and after that we grabbed some lunch in the food court (since Lucas was just about ready to be done with shopping for the day).
There's a wrap place in the food court, so I chose to get a grilled chicken salad in a tortilla bowl which was good, not great. Mom and I also shared some curly fries…again, good, not great.
Dinner
Over the weekend I bought some tilapia to have for dinner this week (no more stinky cod) and cooked it using this recipe, which was pretty yummy. I served the fish along with brown rice and some roasted asparagus.
Dessert
Shortly after dinner on Monday night, Jay and I headed out to one of our local furniture stores and ordered ourselves some new couches! We've been in the market for new ones for quite a while now, so I'll be super psyched once they're in.
On our way home, we juuuust so happened to be driving by my favorite fro yo spot AND we had a Groupon we could use, so we made use of it.
Lots of deliciousness happenin' up in there (umm, they had a cinnamon roll flavor). We got our cups to go, came home, put Lucas to bed, then enjoyed them while watching The Voice. Perfect way to wind down the day if ya ask me.
So there's another WIAW in the books! What's one of the best things you've had so far this week?