Okay, all of you were seriously cracking me up yesterday with your love of Full House and I'm so glad I wasn't the only one who immediately referenced "Funny Jello." Too, too funny!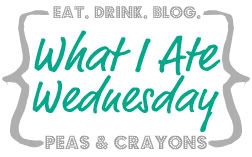 So here we are…yet another edition of What I Ate
Wednesday
Tuesday. But before we get to that, I need to mention that I have completely forgotten a pretty major date for the ol' blog…would you believe that I completely missed STSL's blogiversary?!
April 7th, 2010
was when I first started this little baby of mine, and now all of a sudden she's
three
. I can hardly believe it. I'm going to have to think of a fun way to celebrate, even if it is belated…so be on the lookout. ;)
But in the meantime, let's take a look at all of yesterday's awesome eats…just wait until you get to dinner. OMG so good…
Breakfast
Two pieces of whole wheat toast (bought TJ's brand this week but not loving it) with peanut butter & banana with coffee.
Mid-Morning Snack
Iced Oatmeal Raisin Clif Z Bar (aka, the best thing ever) + an apple
Lunch
More leftover spaghetti squash lasagna with some leftover diced chicken on top.
This was definitely a light lunch and while it held me over for a couple of hours, I was definitely more than ready to dig into my afternoon snacks…and I was so glad I packed two!
Mid-Afternoon Snacks
First snack was a vanilla Greek yogurt with strawberries and Love Grown Foods granola.
Second snack about two hours later was baby carrots & hummus.
And then I needed something sweet so I snagged two dark chocolate squares that I forgot I had stashed in my office.
Nothing like having a rescue stash of dark chocolate at your disposal.
Dinner
Since I had a hair appointment after work yesterday (just a little trim, nothing crazy), Jay totally, 100% took care of dinner. He is the man, no doubt about it. And let me tell you…this is my preggo self's DREAM meal right here. AMAZING.
We had homemade cheeseburgers made with 96% lean ground beef, and while I don't know exactly how he makes his burgers, I do know that there were some finely chopped sautéed onions up in there that were rockin' my world.
He also homemade sweet potato fries with a garlic aioli sauce (seriously, who IS this guy?!), which turned out fantastic. The garlic aioli sauce is incredible…looking forward to using extras of that on, well, basically anything because it's that good (he used this recipe, in case you're wondering!).
And as if that wasn't enough, he even mini side salads, but since I wasn't super hungry at dinner I decided to package up my salad for today's lunch.
Nothing like having a salad prepped and ready to go for you the next day, am I right?
And since hubby took care of the whole meal, I made sure to take care of clean up duty. ;)
Dessert
A little dish of ice cream to top off the evening while watching The Voice.
(For those of you with a Stewart's around, you MUST go check out all of their new flavors. I believe there's six new ones, and this one is called something Rapunzel I think? Vanilla ice cream with caramel swirls and chocolate covered pretzels. Uhhhh-mazing!
Question for the Morning:
Given the choice, would you rather cook the meal or clean up the dishes?