Hump Dayyyyyy! (I'm sorry, I just cannot get enough of that commercial).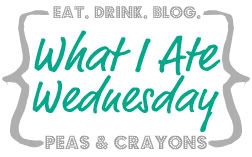 I'm a bit short on time this morning, so let's skip the small talk and get right to the good stuff. Besides…I'm sure I'll get all chatty with ya later on in the post. So here we go…it's What I Ate
Tuesday!
Breakfast
1 egg + 2 egg white scramble with spinach, feta, and ketchup, plus half a whole wheat English muffin topped with peanut butter. Oh, and coffee. Of course.
I'm sensing an egg kick coming my way soon. I've been craving them more and more and they were tastin' gooooood yesterday.
Mid-Morning Snack
I knew I was going to eat the other half of that English muffin from breakfast. It was only a matter of time.
So I had that, topped with peanut butter + pumpkin butter, along with a handful of grapes.
Lunch
THE most yummy tasting wrap I've had in quite some time now.
I used a LaTortilla Factory Low-Carb wrap and filled it with honey mustard, deli turkey, provolone cheese, lettuce, and some amazingly delicious tomato slices.
Mid-Afternoon Snack
This past Sunday when I was at my parents' house, our friend Nicole brought over some pumpkin muffins that absolutely rocked my world. The best part? They only had three ingredients: a box of cake mix + a can of pumpkin + chocolate chips.
Soooo, guess who picked up the ingredients to make them while she was grocery shopping yesterday?
I used a box of golden vanilla cake mix and added about 1/2 cup semisweet chocolate chips to the mix. Cook 'em at 350 degrees F for about 15 minutes (the large ones went for 20) and you've got a simple, delicious snack on your hands!
I ate one of the large ones shortly after taking them out of the oven…
and also snuck in a mini one too. So, so good.
Dinner
You GUYS…would you believe I cooked dinner two nights in a row? I know. I'm shocked too.
Monday night was a crockpot beef and sweet potato stew, and tonight was crispy breaded cod with lemon dill sauce. I used this recipe out of the latest Cooking Light magazine, and paired it with sugar snap peas and carrots.
The meal was nice, light, and totally on our "we will make this again" list.
And hey, check it out…we had a guest at dinner.
Would you guys believe he was actually sitting up there like that on Jay's lap unassisted? We were both cracking up at him just chillin' there. He's been acting super cute lately (Monday night, he jumped up on my lap and hung out there while I was nursing Lucas).
After Dinner Snacks
As delicious as dinner was, it was a little on the light side, so it was no surprise that I was legit hungry again a couple hours later. After feeding Lucas and putting him to bed, I found myself back in the kitchen ready to snack on just about anything. Note to self: Keep the dinners a little heartier next time. Breastfeeding hunger is no joke.
First, I snacked on some of these mini peanut butter cookies that my in-laws got for us after a trip to Vermont.
I'm pretty sure I also had another mini pumpkin muffin before finally prepping my favorite after-dinner dessert as of late: vanilla Greek yogurt mixed with a big spoonful of PB2 and mini chocolate chips.
Cody was all around us last night, if you couldn't tell.
I really like these Light & Fit yogurts for a dessert because they're a bit sweeter than I would typically like if I was eating it, say, for breakfast. I'm pretty sure I've been eating this every night for the past week or so. It helps satisfy my sweets craving and has helped me back away from the ice cream I was constantly reaching for.
Yesterday was actually a bit lighter of an eating day than I've been having lately; typically there's usually more with lunch or a bigger afternoon snack, which is also probably why I was so much hungrier at night. I guess I'll have to work on that a little more today.
Alright my friends, I'm off…catch ya later!
Questions for the Morning:
What's your favorite dessert been lately?
Do you find your cravings spike in the evening if you don't eat enough during the day?