I swear, Wednesdays are coming around quicker and quicker all of a sudden. I seriously feel like I *just* wrote up last week's WIAW post. Sheesh!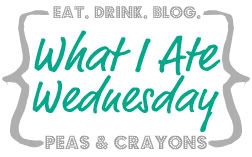 This week, I have the perfect opportunity to catch ya up on some missed eats; since I was so busy posting my recaps from my Reebok trip (here are
Part 1
&
Part 2
) on Monday, I never got the opportunity to share anything from the day.
Hey, good thing we've got What I Ate Wednesday, right? Right!
8:00am – Breakfast
Egg white, provolone, & raspberry jam sandwich on a toasted bagel + grapes + coffee.
(FYI: I've had a few of you ask which kind of bagels I've been eating – they're Weight Watchers brand, and come in at 150 calories with 9 grams of fiber. I love them because they're not as big as a typical bagel but are more satisfying than a bagel thin.)
No Mid-Morning Snack
My stomach was a little whacky yesterday so I never wound up with much of an appetite for anything until lunch rolled around. No biggie.
1:30pm – Lunch
Leftover salad from Sunday + half a banana + an apple cinnamon Chobani.
There's something just so amazing about being able to open a container and having the salad already prepared. If I had the extra money, I swear I would hire someone to do that for me.
I also ended up dipping my banana in some peanut butter because, well, I needed an excuse for some peanut butter.
No Mid-Afternoon Snack
I guess Monday just wasn't much of a snacky day? I didn't feel the need for one, so I didn't force it. Although I did end up snacking on a small handful of Love Grown granola before starting up dinner, so I guess we can call that my snack?
7:00pm – Dinner
Oh yeah, baby. Chicken Caesar Burgers + a side of unphotographed sugar snap peas & corn.
Gosh, that thing was good. I miss it already.
8:30pm – Dessert
Jay and I managed to finish off the rest of the strawberry angel food trifle that we had leftover from Sunday while watching HIMYM (<—anyone catch the end of the episode? Seriously, what's going on?!?)
It wasn't a huge portion (bummer) but it sure was yummy. I think I need an excuse to make this thing again!
So there ya have it, folks. That's what I ate…Monday-style.
Question for the Morning:
What's the BEST thing you've eaten so far this week?