Today is one of those days where I'm having a really hard time coming up with anything fun, quirky, and/or even slightly interesting to start off my post. So this is what you get.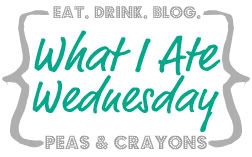 Despite my less than stellar post beginning, I'm pumped to be checking in with you all today! Hope the week is treating you all nicely so far (is it really already Wednesday?! Woop!). I managed to document all of my eats yesterday, so I'm hopping on the WIAW bandwagon once again today. Heeeeeere we go!
Breakfast
2 Van's Lite Waffles topped with Justin's Vanilla Almond Butter & bananas + coffee
It had been quite a while since I last had some waffles and oh mannnn, were they good.
Mid-Morning Snacks
The rest of my banana from breakfast + 2 energy bites
I also got the chance to try a bit of a unique treat…pear ginger Riesling sorbet(!).
One of the guys I work with actually made it and brought it in to share at our morning meeting. I wanted so badly to love it (I mean, it sounds incredible, right?!) but unfortunately, I just am not a fan of ginger, so I only had a couple small bites.
Despite the fact that it wasn't my favorite flavor, I did get a newfound desire to try out the ice cream maker we got last December (and still have yet to take out of the box…whoops!). Maybe we'll have to give it a whirl this weekend…?
Lunch
Talk about a KILLER salad.
Lettuce, cucumbers, carrots, grape tomatoes, pickles, red onions, feta cheese, dried cranberries, avocado, and balsamic vinaigrette dressing. Oh myyyy…that thing was just too delicious.
Shortly after lunch I also snacked on a cara cara orange (my absolute favorite orange!), which I almost forgot to snap a picture of.
Pre-Dinner Munchies
I was pretty hungry by the time I got home from work so I snacked on a couple small handfuls of Van's BBQ chips while Lucas napped and I worked on putting dinner together.
Dinner
Oh, it could not come fast enough. I was starrrrrrving!
Somehow, I recently came across an old post of mine where I made this Quick Patstitsio recipe and it really sounded good, so I made sure to pick up the ingredients at the store over the weekend to make it this week.
Mmm mmmmm. It tasted so good that I had to go back for a small serving of seconds, and I'm pretty sure I would have inhaled that plate in record time if I wasn't also feeding Lucas his dinner simultaneously.
Dessert
Nothing like ending the day with a nice, sweet treat.
Once Lucas was in bed and the dishes were done/bottles were washed and filled/my lunch was made for today, I sat down and thoroughly enjoyed a small dish of cookie dough ice cream while Jay and I caught up on our Monday DVR'd shows (Mike & Molly and HIMYM). Perfect way to end the day, if ya ask me.
What kind of snack are you loving at the end of your day lately? Sweet or savory?