Ok, seriously. Is there something in the air the past couple of days? Because I feel like my allergies are suddenly all out of whack. Itchy throat, tingly nose, water eyes…the whole nine. Blahhhh.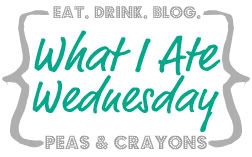 Luckily, there are much worse things in life to complain about so I'm gonna just leave it at that.
Instead, let's move right on to today's WIAW post (aka, What I Ate Tuesday).
Breakfast
A whole wheat sandwich thin with peanut butter & banana + …umm…another cookie dough iced coffee.
Can't stop. Won't stop.
Mid-Morning Snack
Surprisingly enough, I wasn't really even all that hungry but wanted to eat something more just for the sake of eating so I snacked on a package of belVita biscuits.
Recycled pic, as delicious as always.
Lunch
Lunchtime salads are pretty much my favorite way to work on reaching my daily veggie intake goal. This one had all the usuals, but I was pumped to finally get some avocados that were actually good (I've had horrible luck the past few weeks…AND they're like, $2.00 a piece. SO not cool).
More exciting than that salad there, however, is the note sitting right next to it. Deep tissue massage for this mama on Saturday! Woot woot!
Mid-Afternoon Snack
After work this afternoon, I headed out to BJ's for a few items to stock up on, and a few new items for summer, and snacked on a cookie dough Quest bar on the way.
recycled photo again
BJ's recently sent me a gift card to check out some of their in-club items for easy and affordable summer entertaining. (And just a heads up…BJ's is currently  providing a free 60-day trial membership through July 8 so everyone can shop, even if you aren't currently a member!).
One of the items I already knew I wanted to get my hands on was one of these beverage dispensers.
I know this will come in handy next month for Lucas's birthday, and I'm sure it'll get a ton of use throughout the rest of the summer, too. I'm envisioning a big ol' thing of homemade sangria up in there.
Knowing that our pool will (hopefully!) be back up and running soon with a new liner, I figured I'd see if they had any pool floats…
And they sure did! I decided to snag this jumbo mattress float and have totally "tagged" this is MY float for the season.
I even told Jay…what you see on the package is what you'll see in our pool. Mwahaha.
Amongst some other food items I needed to get (and didn't necessarily "need" but wanted…aka, the chocolates you can see below), I also found an adorable little pair of water shoes for Lucas and some new sunscreen.
Thanks again for the gift card, BJ's!
Dinner
Jay and I had pizza on Friday night and for whatever reason, I wound up ordering a 12-cut for just the two of us. Umm, we have lots of leftovers. Or, had.
We decided to heat up a couple of slices for each of us (topped with sausage, peppers, and onions, mmmmm!) and I had some leftover steamed broccoli on the side.
The other dish hiding out in the corner there wasn't mine…that belonged to this babe and included a little "baby" omelet (aka, egg yolk + cheese) and sweet potatoes.
Side note: I absolutely love the way he's always crossing his feet. Too. Stinkin. Cute.
Dessert
Because I can't go a night without dessert…
That is, once again, another recycled photo right there, but it is one of the most amazing desserts ever. A must-try, if ya ask me.
And that's that! Another WIAW in the books…and now it's time to get this work day started (although I am working from home on Wednesdays for the next couple of months which I'm certainly not complaining about!). Hope you guys have a great one!