Wednesday already? I'll take it!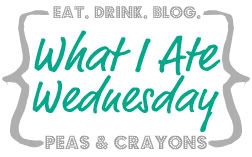 It's been a busy couple of days, both with work, at home, and softball games, so maybe that's why I'm shocked it's already Wednesday. Thankfully, I think the rest of the week is supposed to be a bit slower, which would be just fabulous.
But until then, let's keep things moving with another WIAW post (or, rather, what I ate Monday…as usual).
Breakfast
Vanilla Greek yogurt with blueberries and unpictured granola + a banana and coffee.
Pretty basic, thanks to me running late that morning, but it worked.
Mid-Morning Snack
I had one of the two pictured banana raisin oat bran muffins that I made over the weekend.
They're good, but they aren't anything special so they aren't really worthy of a recipe share just yet.
Lunch
A pretty salad…
With really had no substance to it whatsoever. I totally forgot to add a protein, avocado, or anything else I typically do, so it really did nothing for my hunger.
Thankfully, one of my co-workers came by with a peanut butter chocolate chip cookie shortly after. Totally hit the spot.
But again, didn't do much to help keep me full. No worries though…I was prepared.
Mid-Afternoon Snack
A cinnamon-vanilla English muffin with peanut butter.
I spotted the Thomas' english muffins at the store over the weekend and couldn't pass them up. I am so glad I didn't. They're delicious.
There was also a little extra pb consumption.
Just because.
Dinner
Chicken Taco Salads, which turned out soooooo, so, so, so good.
We weren't quite sure what to expect from this recipe but it is most definitely sticking around. I'd definitely recommend it!
After-Dinner Snacks
We had a softball game a couple of hours later and I wanted a little something before we left so I grabbed a Clif Z Bar.
Fun at softball with Jay and my cheeseball brother!
By the time we got home, it was just shy of 10pm (omgsopastmybedtime) but Jay and I both still had a bunch to do, and we were hungry, so I made a small bowl of Kashi Go Lean Crisp with almond milk.
Plus a handful (maybe two, who knows) of these delicious things.
And there we have another WIAW!
Happy Wednesday, friends! What have you guys been eating and loving these days??