Hello and good morning, friends!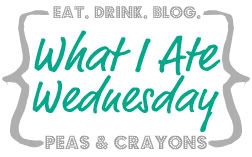 I managed to document most of my eats from yesterday, so I'm jumping in on the always fun What I Ate Wednesday. Heeeeere we go!
Breakfast
1 egg + 2 egg whites scrambled with lots of spinach and ketchup, along with a slice of toast with Justin's vanilla almond butter (oh my goddddd, it's so good) and coffee
Mid-Morning Snack
A banana plus a handful of homemade trail mix (I used some of the items from my latest iHerb order to make it…and then added some semi-sweet chocolate chips for good measure. Mwahaha)
Lunch?
Alright, so this meal is the perfect example of bad planning. Yesterday afternoon, I had an appointment for a mani-pedi that I bought on Groupon a few months back, so my mom came over to watch Lucas for a few hours. I wound up having my snacks above around 11:30am so I wasn't super hungry when I left the house just before 1pm.
Wellll, hunger came rather quickly (as I knew it would…what was I thinking?) and since I didn't have any snacks with me, I needed to make a quick stop. There was a Dunkin' Donuts right on the way so I grabbed an egg white veggie flatbread sandwich.
FYI: That's totally a recycled photo from THIS post, which made me laugh. That was just the start of one of the worst travel experiences I've ever had in my entire life.
I mean, it could have been worse (hello, pumpkin muffin/donut/munchkins) but it could have been better too. Ahh well.
Aaaaaand just because I felt like it, I also ordered myself a french vanilla coffee coolatta made with skim milk. I couldn't tell you the last time I had one of the coffee ones, but this one totally hit the spot.
Also a recycled photo from THIS post.
Dinner
I decided to try out a new-to-us recipe that I'd had pinned for a little while now…Slow Cooker Chicken Caesar Sandwiches. I'd seen both Ashley and Kristen talk about them on numerous occasions so I figured they must be awesome.
Well…they are definitely awesome. I served ours on some sandwich thins, along with some side Caesar salads. Hey, why not go all out, right?
(That's two dinners in a row again so far this week – WOOT!)
Dessert
Shortly after dinner, I wound up snacking on some pumpkin spice M&M's (yep, that was my purchase last week!). They're good, but I'm not sure I'm suuuuuuper crazy for them.
Then once Lucas was to bed (we tried a slightly earlier bedtime – 8pm – and it worked out great) I had my usual after-dinner snack as of late.
(I know you guys are diggin' my super cool jammies)
A vanilla Greek yogurt mixed with PB2, mini chocolate chips (about 1/2 tbsp) and a couple random goldfish crackers (they're cookies 'n' cream flavor) that I found in the cabinet. Sooo, so good, and was thoroughly enjoyed shortly before watching last night's episode of New Girl. Seriously guys…Jay and I laugh out loud more at that show than any other one in our lineup. It is THE best!
How many of you watch New Girl? Any other shows you're totally loving so far this season? (I'm also still totally in love with Modern Family, The Voice, and Nashville).
Alright, I'm off to squeeze in a workout while Lucas is still napping…catch ya later!!