Well last night was our last "officially" scheduled softball game for the season, which kinda blows my mind…seeing as we're usually at least halfway rained out at this point. We still have, I believe, three more rainout games to make up, but from the sounds of it, we probably won't be playing for another couple of weeks (aka, we'll still probably be playing through September like we usually do!).
Since last night's game was finally an earlier one, little man was able to come down and join us. He snacked on his peanut butter sandwich while cheering on mommy and daddy…
AKA, he sat there really only amused while he was eating and then he really just wanted to walk around. Good thing mama packed him some sneakers and gram was able to keep him occupied.
So here we are, it's Wednesday!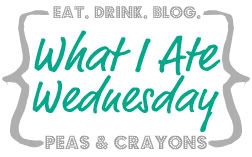 As per the usual, we're checking out all of Monday's eats…some of which you've already seen.
Breakfast
A Greek yogurt + blueberries + Kashi Go Lean Crisp + iced coffee
I was liking this breakfast for little while, but I think I need to go back to having something a little heartier. I mean, it actually does keep me full for a while, but I'm missing my carbs + peanut butter.
No mid-morning snack on Monday. Surprisingly enough, I wasn't that hungry for it.
Lunch
Knowing I'd be having more snacks later, I kept lunch light with half of a turkey sandwich on whole wheat bread with carrots, celery, and hummus on the side.
Snacks
Shortly after that, it was our June birthday celebration at work, so I was lucky enough to eat one of these absolutely amaaaaazing cupcakes.
Seriously, they're my absolute favorite (for the locals, they're from Piece of Cake in East Greenbush – also the place I got my 30th birthday cake and work baby shower cupcakes from!).
Then a couple of hours later while at Whole Foods, you guys already know I was snackin' on some pizza and green juice.
They. Were. Awesome.
Dinner
Super lame. I didn't get home until about 7:15pm because I was out taking a yoga class(I'll fill ya in soon!) and then I had to put Lucas to bed. So by the time that was all said and done, it was about 8pm. I wound up eating some leftover macaroni salad from Sunday from right out of the container and pulled pork from who-only-knows-when in the fridge.
Dessert
And about a half hour later, it was dessert (#2) time.
Some more leftover trifle from Sunday (which is now sadly gone). Probably a good thing, but still a bummer.
Well there ya have it, my friends. And now, I'm off! Happy Wednesday!