Hey folks! Happy Wednesday! How's the week going for everyone so far?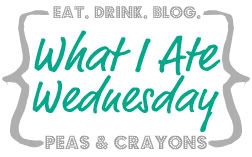 We're still truckin' along over here – me and the babe in the womb, that is. Last night, I had a bout of some pretty painful contractions but, alas, I'm still off to work this morning. Nothing major happening just yet!
So I actually happened to document a full day of eats this week (who knew?!) so here we are, back to celebrate another lovely edition of WIAW. Let's take a look…
Breakfast
A bowl of Kashi Go Lean Crisp (looooove this cereal!) with unsweetened vanilla almond milk + some decaf iced coffee.
Mid-Morning Snacks
A banana (which was supposed to go in my cereal but I forgot)…
and then about an hour later, a pumpkin pie flavored Larabar ALT bar that I found stashed in my desk. Thank goodness it was in there because I was staaaaarving yesterday morning.
Lunch
A little random and a little lame, but that's what I get for giving myself about two seconds to prepare my lunch in the morning so hey, what are ya gonna do?
A tossed a bunch of baby carrots in a baggie and then took a leftover mini sweet potato and loaded it up with basically anything I could grab quickly from the fridge…that included some salsa, a dollop of sour cream, and about a 1/4 of an avocado.
You know, it was definitely random but it wound up being quite tasty, if I do say so!
Mid-Afternoon Snack
Granted, as tasty as it was, that little lunch was nothing that was going to hold me over for too long. Thank goodness I knew that though and wound up packing a little mid-afternoon snack, too.
A vanilla Chobani with lots of fresh strawberries, raspberries, and blueberries. YUM!
Dinner
This is no secret these days, but I really, really have no desire to do much in terms of dinners. Anything quick and easy is my go-to, and if there's leftovers? Even better. We still have some grill food leftover from the 4th of July, so Jay and I kept it simple and cooked up some of that, along with a couple ears of corn on the cob for ourselves.
My grill food was two (gasp! How crazy of me?!) hot dogs (I found these lean beef franks at Target and they're really good!) – one with a bun and half a slice of cheese, one without, both with ketchup and mustard. It totally hit the spot.
Dessert
It's a recycled photo but, as promised, I enjoyed the same delicious bowl of watermelon sherbet topped with mini chocolate chips as I did on Sunday.
And for those of you who aren't quite sure of the sherbet + chocolate chip combo? TRUST ME…it is out of this world! Just like the real watermelon roll from Friendly's!
And, FYI…Jay and I have successfully finished off the carton. It is GONE. Boooooo.
So how about you guys? What's been some of the awesome and amazing food you've been craving and enjoying these days??