Wednesday already? That's what I'm talkin' about!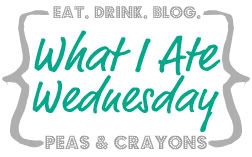 The past two days have been
super
busy. I suddenly have a bunch of extra stuff on my plate (most of which is good!) and I'm trying (yet, somewhat failing) at getting it all organized. It'll all get done eventually, I know that. But sometimes I let it just overwhelm me a bit more than I should.
Thankfully, with the help of Jay, we managed to work through a bunch of stuff yesterday after work, including a load of laundry, dishes done, most of this blog post written,  Lucas's clothes folded, some travel planning stuff done (fun news to come!) and I even managed to get a workout in. Yes, I went to bed feeling much more accomplished than I had felt Monday night…and that's because I'm just ignoring the rest of that monster list of things that still need to get done for the moment.
But enough about that…let's just get to the bulk of this post! It's What I Ate Wednesday Monday.
Pre-Breakfast Snack
Some mornings I'm way hungrier than others. Monday morning happened to be one of those days. I'll usually snack on a handful of this or that before leaving the house, but I was racing out the door like a madwoman (no surprise there, really) and didn't have time to grab anything. Thankfully, I found this little gem stashed away in the center console of my car.
I keep food everywhere. Not kidding in the slightest.
After dropping Lucas off and on my way in to work, I also noticed that the drive-thru line at DD's was empty…
I think I may have a problem, you guys. It's an iced cookie dough coffee problem. I. can't. stop.
Breakfast
To go with my iced coffee was breakfast, which included some plain Greek yogurt with strawberries + Kashi Go Lean Crisp.
Light. Refreshing. Totally not enough for my hunger that day…
Mid-Morning Snack(s)
About an hour and a half later I was hungry once again, so while I took care of the pumping thing, I ate a packet of maple and brown sugar instant oatmeal (kept in my desk for emergencies).
There's really no way to make instant oatmeal look appealing, sorry guys.
By the time I got back to my desk, I was greeted with a yummy little surprise.
One of my co-workers made peanut butter chocolate chunk cookies and dropped one off for me. I'd usually try to save something like that for an after-lunch dessert but it looked too good to hold off on…and it was.
Lunch
As I went to snap a photo of this one, I felt like I could have been lunch twinsies with a fourth grader.
Sometimes, a classic sandwich just hits the spot, don't you agree? This sandwich was deli turkey with lettuce and (semi-brown) avocado with balsamic mayo on whole wheat bread, which was enjoyed along with some baby carrots and hummus.
That sandwich was uh-may-zing.
Afternoon
Snack

Dessert

I stole these out of my friend's candy dish at work earlier in the day and had forgotten about them until I went to grab my keys from my purse on my way out of work.
A drive home is infinitely better with peanut m&m's. Just sayin'.
Dinner
Monday night was gorgeous, so we took full advantage (before the snow showers hit last night…ugh) and fired up the grill.
Jay took care of grilling up some steaks while I made some oven roasted garlic and parmesan potatoes (I used a somewhat loose version of this recipe). This meal was fabulous and I am totally, 100% looking forward to more just like it as the weather warms back up again. C'mon Mother Nature…mid April should not mean 40 degrees!
Anyways…Monday night also happened to be a family dinner night. These nights are rare (we're always scrambling and can never seem to time things so we all eat together) so I always enjoy them even more.
Lucas chowed down on some pureed spinach/green beans/carrots/peas, some of a hardboiled egg yolk, small bites of pears, some of our potatoes and green beans, and a few yogurt melts. This kid…I'll tell ya. His appetite is out of control. I swear he'd eat all day long if I kept food in front of him. I'm already worried about my grocery bill as he gets older.
Dessert
Despite the fact that I had my fair share of mini sweets during the day…and because I can't go a day without it (aaaand it's in the freezer so I can't ignore it)…
I had the same dessert as Sunday night – vanilla ice cream with birthday cake Oreos crumbled on top.
Alright friends, that's all I've got for today. I'll catch up with you guys soon!