Iiiiiit's that day again!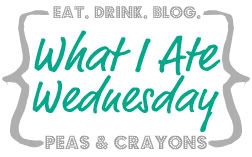 I've actually found that since I've been posting less and less of the whole "daily eats" thing on a regular basis, I actually look forward to putting together these weekly WIAW posts. My meals range so much these days (sometimes I'll go days without any veggies, other times I can't get enough of em), so keep in mind that this is only a small snippet of what and/or how I tend to eat.
This week's eats all come from Monday and actually wound up being fairly balanced…and quite delish!
Breakfast
Plain Greek yogurt with strawberries and blueberries, a side of Kashi Go Lean Crisp, and a Grande Blonde Roast from Starbucks.
As you guys know, Friday is typically my "treat myself to coffee" day. However…Friday's coffee treat wound up getting spilled all in the back of my car. Oh yes. It still smells just lovely in there. So yeah…since I never got the goods on Friday, I treated myself on Monday.
Mid-Morning Snack
A piece of banana bread + a small banana
Love, love, LOVE this banana bread. Most definitely my new favorite recipe!
Lunch
Deli turkey, provolone, lettuce, and avocado on a sandwich thin with honey mustard + some baby carrots and grape tomatoes
I was really feelin' the idea of a turkey sandwich while I was grocery shopping over the weekend, so I made sure to pick up some extra deli meat (Jay usually eats the majority of it). Sometimes, a sandwich just really hits the spot.
Mid-Afternoon Snack
Some broken up saltines + peanut butter.
A little random, maybe? Well, the reason for the extra saltines stems from a little "Minute to Win It" challenge that I held at work on Monday (I run them every other Monday in the office for a little fun!). This week's challenge was to eat 6 saltines in a minute. So funny. So much harder than it sounds (I think I just barely finished 4). I thoroughly enjoyed all the leftover crumbs.
After-Work Snack
Soooo, the bag of all reds and pinks Starburst jelly beans is really where it's at.
I snacked on that by about 10x while soaking up all sorts of play time with my smiley guy.
Dinner
Thanks once again to my girl, Kristen, we had a delicious dinner at home. Crunchy Taco Hamburger Helper, to be exact.
I followed her recipe exactly, only subbing in ground chicken for beef and brown rice for white (it's what I already had on hand). FYI: If you make it with brown rice, just be prepared for it to need to cook a bit longer and require a bunch of extra liquid. Flavor-wise though? AWESOME.
Dessert
Because there's always room…
Did you know that Ben and Jerry's has flavors that are exclusive to Target? I found this flavor one of the last times I was there and there was just no way I couldn't pick it up. It's really good. Not my favorite, but really good.
Okay friends, there's another WIAW in the books! I'm SO looking forward to today…I'm off work for the day and have quite a fun day planned. I'll be back tomorrow with details (as long as I can keep my act together and make the time to do that).
Happy Wednesday, friends!