Ahhhhhhhh……it's amazing how much better I feel when I actually get 8+ hours of sleep!
Last night before going to bed, I made the decision to skip out on today's usual BodyPump class in favor of some extra zzz's. I haven't really been loving the use of the old track in BP lately, and I knew that my body was craving the extra sleep more than it was the iron pumping. I'm pretty sure it was probably the best decision I've made all week. Well, except maybe for these.
To be honest, it hasn't been easy to stick with my goal of getting to bed earlier and getting my 8 hours every night. Some days I'm all about extra sleep, but other days, I'm all about extra QT with my boys. That being said, I'm thinking that this will be a good month to really focus on it. November and December tend to be the craziest months for me (and many of you, too, I'm sure), so if I'm looking at how I want to try to stick with healthy habits during the holidays, sleep definitely needs to be included. Nobody wants to deal with a sleep-deprived, crabby Courtney…trust me!
Breakfast
Yup. Still workin' through those English muffins…
Today's English muffin went sans eggs and cheese but included peanut butter, banana slices, cinnamon, honey, and chia seeds. I hadn't done this combo in a while, so it was quite tasty.
*****
Deals & Steals on Home Décor? Yes, please!
I'm tellin' you guys – I end up getting more fun and interesting information from watching Good Morning America in the mornings than I do any other program.
Well this morning, they had on a segment that included deals on some awesome items to enhance the kitchen and home, and I ended up coming across a few that I just had to share.
1. Sticks and Stones: Personalized Alphabet Photo Keepsakes – 50% OFF w/ promo code GMA.
About two years ago, I was at a craft show and ended up buying one of my own and I absolutely LOVE it.
I've gotten quite a few inquiries on where I bought it and get compliments on it ALL the time. They can get a bit pricey, which is why I kept ours small; but with a promo code of 50% off, you might be able to find some great deals. I think this would make a perfect gift!
2. Chalkboard China: Chalk-Friendly Tableware and Gifts – 50% OFF w/ promo code GMA.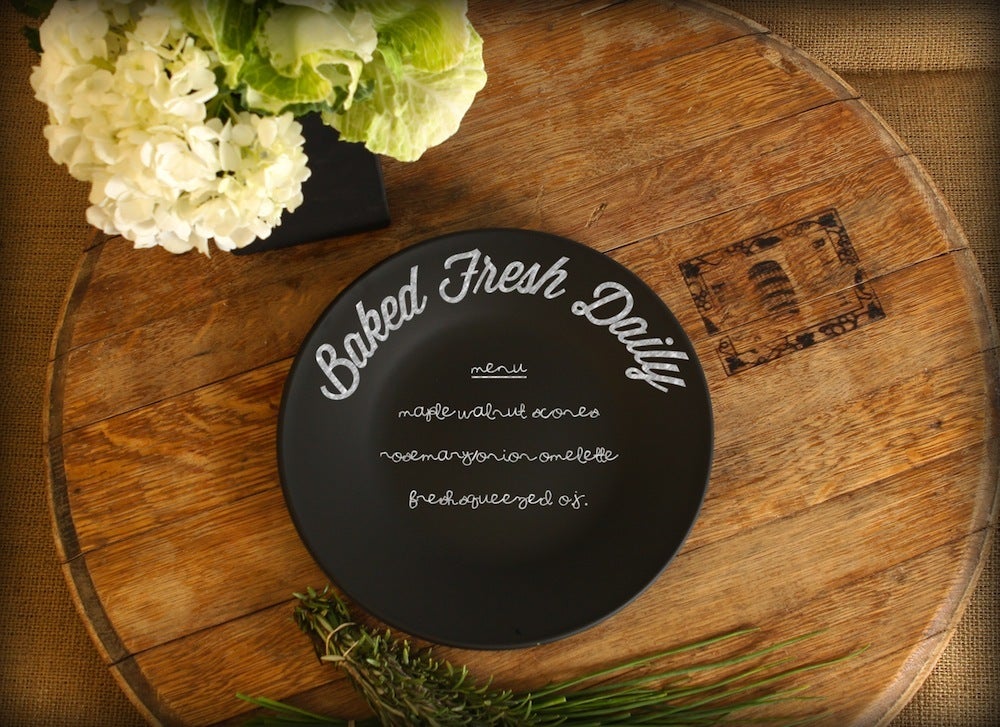 source
There are SO many cute ideas on this site! I love the look of chalkboard paint, as I've shown you guys before, but in case DIY isn't really your thing, this site has some great stuff that would make for some awesome gift ideas (and wedding ideas, too!).
There's a ton of other awesome deals on the GMA site, so definitely go check 'em out!
(P.S.- no affiliation here – I wish – just sharing the wealth)
*****
Alrighty folks, it's about time to go get ready for that little thing called work. Catch ya later!
Questions for the Morning:
How much sleep did YOU get last night?
How early do you start your holiday shopping?
Do you enjoy buying home décor or do you dread it?