Well gooooood morning! We've made it to Thursday…already. Anyone else finding this week movin' rather quickly? Hey, I'm not complaining.
Workout
Being Thursday and all, I headed out bright and early (in the oh, I don't know, 5 degree weather) for some BodyPump. Today's class seemed super challenging, which I'm attributing to it being 2+ weeks since I've last taken a class. I'm still not loving the music, but I do love the burn!
Oh yeah, and to fill you guys in…remember when I took that Focusmaster class last Thursday and was contemplating joining? Well, I decided against it. As great as the class was, I just couldn't guarantee that I would commit and make it worth my while. And even though it was a good deal, I really didn't feel like shelling out the extra moola. Maybe I'll do another drop in class here or there…who knows?
Breakfast
Well would ya look at that? Look what's making a return into the breakfast rotation…
The cereal combo! Today's bowl included (mostly) Kashi Go Lean, a sprinkling of mallow oats, loads of blueberries, unsweetened almond milk, and chia seeds.
(Shhh, don't tell Jim about the marshmallows…I'm pretty sure they're not a part of the plan. But it's okay, I only used a sprinkling).
One cool thing to note, however, is that Jim did give my chia seeds a thumbs up. He's a big fan of incorporating chia seeds and recommends consuming one serving a day. Saweeet!
And I totally forgot to mention this sooner, but aren't these placemats pretty? They're totally spring time, but who says you can't decorate for spring in the beginning of January, right?
My MIL actually got these placemats and matching napkins for us for our anniversary. It was her "spin" on the cotton anniversary, which I thought was very clever.
Pretty AND delicious. Holla!
*****
Okay, now on a totally different note before I go…has anyone seen the latest Geico commercial with Maxwell the pig on the zip line?
I'm pretty sure I get it from my dad, but anytime there's any sort of humor with animals involved, I just can't help but crack right up. Magazine ads (the ones with the cat and the litter box), commercials, and movies are all equally funny.
But I think between me and my dad, our favorite humorous animal would have to be the gopher from Caddyshack.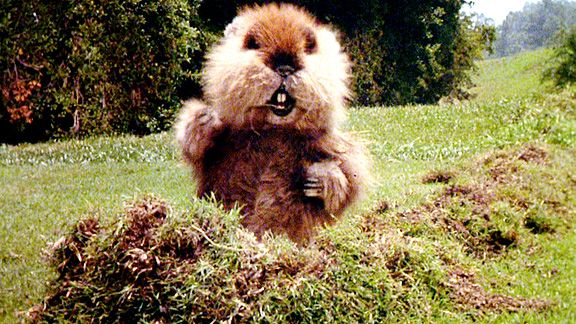 My dad even has a replica on his desk at work that plays music and dances. Absolutely hilarious!
Questions for the Morning:
What kind of humor do you enjoy most?
Are there any other animal ads/commercials/movies that are super funny?