Today had to be the first Saturday in weeks where both Jay and I did not have any other commitments and were able to just relax. Lately, it seems like one, or both, of us has one thing or another going on and we haven't been able to just enjoy each others' company. It felt so nice to get up without an alarm, mosey on out into the kitchen, and start our day on a lazy note.
This meant Cody even got some extra fetch time, which he totally ate right up.
Last night (which consisted of DVR'd Jersey Shore, a frozen Kashi pizza, watching the movie Something Borrowed and some fro yo) before going to bed, I asked hubby in my "sweetest voice" possible if he'd be willing to make some omelets for us for breakfast today. I mean, he is one heck of an omelet maker.
He hesitantly gladly obliged, so I brewed up some coffee and he got to work on the food, while we both continued to watch the Weather Channel forecast on Hurricane Irene.
Before this morning, I was still somewhat in denial that it's not going to hit us because I swear, 99% of "storms" that are supposed to come our way never do. But judging by the latest forecast, it's definitely headed straight for us…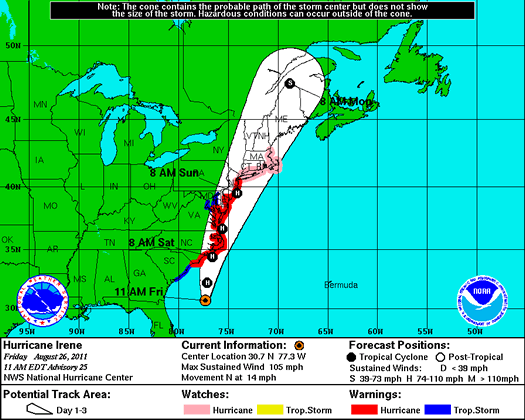 source
They're forecasting 60-70mph winds and upwards of 5 inches of rain for here in the Albany area. That's CRAZY for around here! Needless to say, Jay and I will be spending the afternoon bringing in all of our pool and patio furniture…yikes.
Within a few minutes of listening about Irene, breakfast was served.
I requested a veggie omelet (made with 1 egg and 1 egg white), filled with tomatoes, onions, red pepper, and Chavrie goat cheese. Jay did in amazing job on this thing…it was fantastic.
I also munched on a Thomas' whole wheat English muffin with raspberry Polaner All Fruit.
Jay made himself a batch of home fries along with his Western omelet, and boy I'll tell ya…this boy can seriously make a mean breakfast.
Once this breakfast digests, I'm hoping to get in some sort of workout, start cleaning up around the yard, bake up a batch of brownies, and get ready for a party we're headed to later this evening.
It may have been a relaxing morning, but it's definitely going to be a busy day!
Questions for the Morning:
Is Hurricane Irene effecting where you live?
Have you ever experienced any sort of extreme weather?