I feel like a hot mess this week. And it's only Wednesday. What the heck?
This week at work has been a bit crazy, since I've been doing the whole double duty thing again while one of my co-workers is away on vacation. Then, I had to work from home yesterday, which sounds like a bad thing there but of course I love extra time with my Lucas! It's just that it makes things difficult when trying to work two roles at our busy time of the month while trying to keep a 16 month old entertained. Aaaaand when your internet keeps going out, that sort of puts a damper on things.
On top of that, I feel like I've recently taken on a lot of different projects and commitments in numerous areas in my life and I'm feeling like I just sort of need to take a step back and be like, woah. Okay. Take a breather.
So that's exactly what I did last night (after finishing two separate projects and working a couple of extra hours on my day job work…) and I'm feeling a bit better. If I can make it through today, then that means I've got four solid days ahead of me full of family and a lot less work. This is a week where I should be feeling extra thankful for what I have! Not crazy stressed about it…I guess it's just all in how you spin it. Yes, I may be busy, but it's all for wonderful opportunities so now that I've gotten that off my chest, I cannot complain.
Whew! Alright, much better…let's move on.
Guess what…I decided to bring back WIAW today! It's been a couple of months and I've had some of you asking for its return, so I figured I'd throw one in there. For old times sake.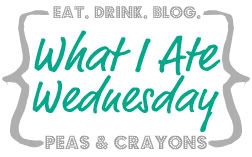 On Monday, my day started off on the right foot with an early morning T25 workout. I've been alternating back and forth between the beta and gamma videos lately, which has been a nice change of pace. Shortly after showering, my stomach was already grumbling so I grabbed a SMART bar (my last one, so sad!) and snacked on that while getting ready for work.
Old Photo
Once I got to work, I ended up eating a yogurt with granola, which really looked nothing like this but it gives you the idea.
For a mid-morning snack, I'll bet you can guess what I had…
Alright, I guess I did change it up a little bit by swapping out my usual banana for an apple.
I never gave myself the time to pack a lunch on Monday so I had planned on going out to grab something, but the day just got away from me and I didn't really have the time to leave.
Luckily, we actually have a local farm, 9 Miles East, who keeps a big cooler in our cafeteria and they come weekly to fill it up with homemade salads, soups, and dinner boxes. The selections change weekly, and this week they had a Bistro box that sounded really good so I just bought that and ate it at my desk.
This thing was SOOOO good. It was huge, if you couldn't tell, and filled with fresh spinach, lentils, rice, carrots, walnuts, a homemade dressing, and plenty of other greens, too.
I love that we have such fresh, healthy, and convenient options!
A little while after eating, I really just needed to get up and move around for a bit. Especially since I've got to keep my daily steps up!
It was a surprisingly beautiful day for late November (mid 50s, no jacket required!), so I took advantage and soaked in a little extra Vitamin D while getting my rear end up and out of my chair for 20 minutes.
Then my walk, apparently, gave me a sweet tooth because I got back to my desk craving chocolate.
Yes, that's the same bar that I bought two months ago…I guess you could say I like to ration my chocolate.
By the time I got home, I was more than happy to just sit and be with my boys.
We like building block tours these days. Or actually, it's more like Jay and I like building tours and Lucas just likes knocking them down. Ah well.
While Jay and I worked on getting dinner ready, I snacked on some Chex Mix that I stole from my parents' house on Sunday (looooove mom's homemade Chex Mix!).
And then we had dinner.
This meal was actually Croque Monsieur-Style Sandwiches with Bacon, Radish & Little Gem Lettuce Salad from our recent Blue Apron delivery. It was delish, and I'll be sharing more about the delivery with you guys next week!
A little while after dinner, it was time to put Lucas to bed…gosh, I could just sit and watch him sleep for hours. And I find that actually kind of amusing because I used to thought people who said that were nuts. Go figure…now I'm the nutty one.
And of course, shortly after Lucas was asleep, it was time for dessert.
Yessss…so many of you told me how amazing the Sea Salt Caramel talenti gelato was, so I totally picked up a pint. Jay and I shared some the other night, but I totally finished up the rest. Mwahaha.
I noticed while I was lounging and eating my gelato that my steps for the day were just a couple hundred shy of 10,000. So I did what any normal person would do and stood up to do some jumping jacks, high knees, and jogged in circles around the living room until I hit my 10,000 steps.
And once I did…I went back to my lounging.
This week, our challenge for the Fitbit Blogger Challenge is: "One day this week tack on an extra 20 minutes to your workout, run or training session to increase your overall steps and distance travelled. " And actually, between my afternoon walk and my crazy little spaz session in the living room, I most definitely tacked on an extra 20 minutes. So…challenge ACCEPTED! Have you guys checked out the leaderboard lately? Go East Coast, Go!
So yeah, there's a look at what things have been like for me over here so far this week. Hopefully things are going well with all of you and you're gearing up for a nice little holiday with family and/or friends.
Let's talk Turkey Day…what are you most looking forward to at your Thanksgiving meal? For me, I'd have to say it'll be the green bean casserole. And the turkey. And the sweet potatoes. Orrrr, we'll just say ALL of it.