I've got some great stuff goin' on over here this morning. Great stuff.
Starting with breakfast…
Gosh, I love these things. I am so, so happy that I finally found them.
Today's Kodiak Cakes were topped with some peanut butter (which I know looks like a ton – probably ~1 tbsp) and sugar-free syrup. I also ended up mashing half of a banana right into the batter, which I am now also a fan of.
Jay's actually home today (but sleeping in) and I've debated on whether or not I want to make him some of his own pancakes or just keep them all to myself. Would that be horrible of me?
Let's do a quick rewind…before any sort of delicious breakfast was had this morning, it was yoga time.
Today's session was the 40 minute Core Strength video off of my Yoga Bootcamp DVD.
I've tried all but the Legs & Butt video from this DVD, and I really enjoy them all. The one that I did today, even though it's called Core Strength, gives me a MAJOR upper body workout too so that one's definitely a favorite.
Sooooo, speaking of yoga…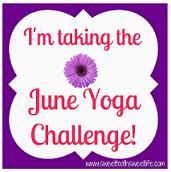 Congratulations, everyone! We've all successfully (hopefully) made it to the end of the challenge. I'm so glad that some of you decided to join along with me this month, and it's been so fun reading all of your challenge recaps (even if I don't comment, I'm still reading!).
So here's how the final week went for me:
My Challenge: Do 4 yoga sessions for the week
Actual: 4 yoga sessions done! (much better than last week!)
(1) 40-minute 10lb. Slimdown Xtreme Yoga
(2) 20-minute 10lb. Slimdown Yoga
(1) 40-minute Core Strength Yoga Bootcamp
Final Thoughts
Deciding to incorporate yoga into my workout routine was probably the best thing I could have done for myself this month. I can honestly say that I've truly discovered a new love for yoga and have full intentions of following through with my continued challenge of 3 sessions per week.
I still have a ways to go before I'd even consider calling myself anything but a beginner, but I'm totally cool with that. If there's one thing I've learned from all of my stellar yoga DVD instructors, it's that there's no such thing as a perfect practice. And, well, since my practice is far from perfect, that is a-okay with me.
Yoga has helped to not only tone the body, but it has actually had quite an impact on my mind. I had a couple of times this week where I was feeling some pretty crazy anxiety – those were the two 20-minute sessions – and they really did help put my mind at ease.
I'm still planning to hit up a yoga class at a local studio sometime soon (Kate? Jen? Emily?) and hoping that maybe a Groupon or Living Social Deal will come out.
We'll see what happens!
So now, here's your LAST CHANCE to link up with your own challenge and get an extra entry into the giveaway for these goodies…
(To find out more on the details of the giveaway, check out this post and if you don't have a blog, just remember to email me)
Let's see how everyone finished up this week!
[inlinkz id = 4]