Happy weekend, friends! While I'm most likely on my way home this morning from partying my face off at Kathryn & Paul's wedding, I thought I'd share a little guest post with you all…and actually, it's one of MY guest posts!
A couple weeks ago, I wrote a guest post for FitSugar, highlighting some of my favorite Reebok gear, as well as a fun contest that's going on on Pinterest. It was a fun post that I really enjoyed writing, so hopefully you guys will like it too!
*****
This past May, I was presented with the opportunity to visit the Reebok World Headquarters in Canton, MA, and my entire experience there was incredible. The Reebok team members were so friendly and super knowledgeable of their products, the Cross Fit WOD and cardio dance class were insanely awesome, and the generous goodies we received while visiting was pretty much the icing on the cake.
(To read more about my experience at Reebok World HQ, you can check out my recap posts HERE and HERE).
Ever since that one day in May, I have been in love with my Reebok gear.
The sneakers have easily become my go-to pair (and of course, I swap colors to coordinate outfits!), and the apparel is some of the comfiest stuff that I own.
Recently, I was sent some of Reebok's newest footwear and apparel to try out.
The first pieces I tried out were the Flex Collection Seamless Long Bra Top and Seamless Capri Tight.
While I immediately fell in love with the comfort of the top, I think my favorite thing about it was the length. I love me a long-length workout top, and this one definitely fit the bill.
Another thing I've been loving? This gorgeous pair of Reebok RealFlex Fusion TR's.
These sneakers have been absolutely great for so many reasons. For one, I've recently had to cut back on my own workouts and have been doing a lot of walking. These sneakers have, without a doubt, been a perfect shoe for that.
In addition to being able to do all of my walking with them, they've also proven to be a great shoe for when I'm training clients as well.
I'm looking forward to the day when I'm able to once again start doing some killer circuit and HIIT workouts with these bad boys, but for now I've got to do what's best for me and my body.
Honestly, my personal fitness lifestyle has changed drastically in the past three months and it's often been a challenge at times. Some days, I let myself sulk and feel bad about it. Other days, I remind myself to be thankful for the things that I CAN do, and often look to others for some extra inspiration.
One of those people would have to be Chris Powell.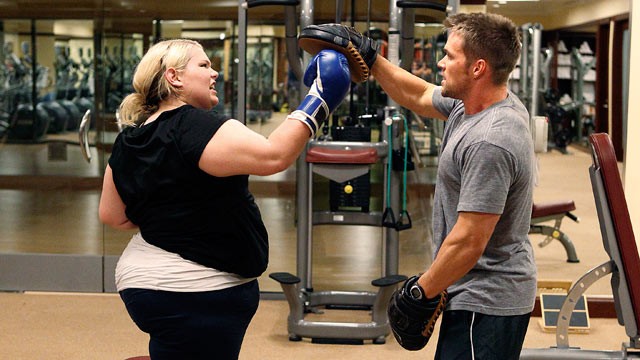 source
I've long been a fan of him, for a number of reasons, but have most recently become obsessed with him and his training on Extreme Makeover Weight Loss Edition. Just watching Chris on that show proves that he is, for many – including myself, a fitness hero.
Chris inspires me to keep doing what I'm doing, regardless of it being just walking and yoga. He also motivates me to continue to be an even better personal trainer with my own clients. He's uplifting. He's motivational. He's tough when he needs to be, just as I strive to do.
And let's be real…he's pretty easy on the eyes, too.
source
I actually have this picture of Chris posted on my "My Fit Pin-Spiration board on Pinterest because he is, in fact, my fitness inspiration.
If you check out my "My Fit Pin-Spiration" board, you'll see Chris, along with some other faces of fitness that I look to for inspiration and motivation. And right now, you can actually create your own "Fit Pin-Spiration" board on Pinterest as a part of the Reebok Pinterest Contest.
To find out more about the contest and how to enter, click here.
Who do you look to as your inspiration? (it can be anyone and doesn't have to be a household name!) Who pushes you to lead a healthier, happier life? Whoever it is, be it a popular TV trainer or your gym buddy, make sure to thank them.
They deserve it!