So my normal excitement for food (and eating in general) seems to have gone out the window a bit this week. I'm chalking it up to a mix of hormones and nerves, considering the fact that I feel like I've been completely on edge these last few days. Man oh man…the days leading up to a pregnancy due date, I'm quickly discovering, are seriously quite torturous!
I'm trying so hard to just be chill about it all…because, as they say, "the baby will come when he's ready!"  But damn. That is wayyyy easier said than done!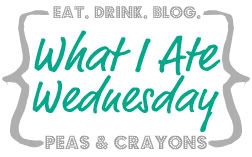 Soooo, anywho…for this week's WIAW (Tuesday), I guess the food itself really won't look all that different from what it has been lately. Girl still has to eat, so I attempted to put together some meals that would be easy and attempt to provide me at least 
some
nutrients other than carbs, since they're my jam these days. ;)
Breakfast
An English muffin with peanut butter and banana + some iced coffee. BUT…it wasn't just any English muffin…
A couple weeks ago, Thomas' sent me some of their limited edition banana bread English muffins and I have been lovin' them! They're only available until the end of August apparently, so be on the lookout…these babies are gooooood, my friends.
And while we're talking about their new English muffins, I should also mention that they have some limited edition bagels out right now too…apple pie, anyone?!
Both Jay and I have enjoyed a couple of these over the past week or two…my favorite is with just a little butter and jelly. YUM!
Mid-Morning Snack
A piece of the banana bread brownies I made (aka, it's basically bread…it's suitable anytime of day).
Lunch
A turkey sandwich on a whole wheat hamburger roll with hummus, provolone cheese, spinach, and tomatoes.
Mid-Afternoon Snack
Pineapple and strawberries once again. C'mon pineapple!
Pre-Dinner Snack
I really had no idea what I was in the mood for, so I wound up opening the cabinet and snacking on a bunch of wheat thins with hummus while trying to figure it out.
Unfortunately, nothing was sounded all that great for dinner, but I eventually came up with an old standby, which I haven't had in foreverrrrrr…
Dinner
Eggs! I honestly couldn't tell you the last time I had eggs (okay that's a lie…I can, thanks to this blog) but they tasted great. I scrambled up two of them and mixed in some sautéed spinach, fresh tomato, feta cheese, and some crumbled turkey bacon.
After dinner, I did a little bit of work on the computer and was quite happy to have my sidekick right there with me. For a while, he was just hanging out, sitting right behind me in my chair. He usually does this until he realizes he isn't getting enough attention…then he goes in for the kill and plops himself right in front of the computer.
Such a ham. :)
Dessert
A couple hours later I wanted something sweet to eat (no surprise), and after nibbling on a couple bites of banana brownies (you know…you just slice off a "tiny sliver" and then proceed to go back for about five or six more…) I ended up snacking on a dulce de leche pudding cup topped with mini chocolate chips and rainbow sprinkles.
I know…how old am I?
So that's all I've got for ya today, my friends! Now it's about time for me and Baby Tooth to head to work and start our daily bouncing on the exercise ball at my desk routine. ;)
Happy Hump Dayyyyy!