Disclaimer: This is a sponsored post. I was compensated for my time and received product to review but all opinions, as always, are my own.
I'm switching things up a bit for today's What I Ate Wednesday. It's always good to keep things fresh anyways, don't you think?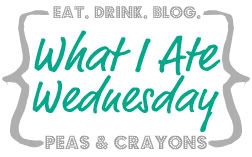 I decided it would be fun to share not only what I ate, but also what Lucas ate. A few of you have expressed interest so hey, why not? And I also decided to share what I ate on a Sunday, rather than a weekday like I usually do, since I often eat very differently on the weekends (aka, veggies are scarce and carbs are plentiful).
Oh, and there might also be a little somethin' somethin' for you guys at the end of the post, too. So let's get started!
Breakfast
I love weekends because it gives the extra time that I never give myself during the week for breakfast. Sometimes that means pancakes, other times it means eggs. This past Sunday, it meant an omelet.
Two eggs with shredded mozz cheese, onions, and tomatoes (we were low on the greens) and a mug of coffee.
A big thank you to Jay for making it for me while I fed Lucas his breakfast, which consisted of half of a banana, a YoBaby yogurt, and a pancake.
The yogurt and banana are staples, along with some whole milk he gets upon waking, but the third item usually rotates. All last week he had pancakes. Sometimes he'll have toast, Cheerios, or an apple cinnamon Nutrigrain bar.
Mid-Morning Snack
Some things never change…
A banana with some Justin's vanilla almond butter. THE best. stuff. ever.
No morning snack for Lucas…he was sleeping.
Lunch
Shortly after the little man woke up from his nap (12:30pm) it was lunch time. We were short on food since a grocery trip was on the agenda for after lunch, so I kept things simple for him with a PB&J sandwich on whole wheat bread, along with the other half of his banana from breakfast.
Lucas has no problem eating an entire PB&J sandwich. Again, this is a go-to for when he's being picky. And if/when he starts to lose interest, we give him a fork and he's back in the game.
His sandwich actually wound up looking so good that I made one for myself and we had them together.
So cute, I know.
Afternoon Snack
While we were grocery shopping, I wound up picking up two 6-packs of muffins from the bakery because they were on sale (2 for $3.00!). We certainly did not need them, but I was hungry and it was a good deal.
I ate half of one in the car on the way home because I was starting to get hungry, then Lucas and I ended up sharing the other half a little later in the afternoon.
Lucas also had another sippy cup of whole milk before his afternoon nap, along with some more Cheerios. The muffins were good but, unfortunately, totally lacking in the blueberry department.
Pre-Dinner Beverage
I had to make a trip to the liquor store on Friday and while I was there, saw they had some hard cider by the counter and bought a bottle on impulse. I forgot about it again until Sunday so I poured myself a glass while we were getting dinner ready.
Lucas did not partake in this one and stuck with water instead.
Dinner
We decided to wait to have our dinner until after Lucas went to bed, but Lucas got his dinner around 5:30, which consisted of some unpictured peas, carrots, and grapes, along with some Easy Cheesy Spinach Pasta.
My friend Kanika originally turned me on to this recipe and we all LOVE it in our house. I've made it a couple of times, thinking I made enough to freeze some, but Lucas ends up working his way through the entire batch before I get the chance to put it in the freezer. I posted the recipe I use on the Baby Tooth page yesterday, so be sure to check it out. Perfect for babies AND adults. Trust me.
As for our dinner, Jay and I have been saying for a couple of weeks now that we wanted to make pizza, so we finally got down to business and made it happen.
Our pizza of choice was BBQ Chicken on a homemade honey whole wheat crust with fresh mozzarella.
Oh my godddd, it was so good.
I ended up eating two slices, which were way more filling than I was expecting, thanks to the nice, thick crust.
And I also loved the way that it cooked up on our new Simply Calphalon pizza pan.
Thanks to a new partnership I've started with Sears, I was recently given the opportunity to try out some of the Simply Calphalon line of products which is now newly available at the store.
The Simply Calphalon Bakeware line features a durable, toffee-colored nonstick surface coating, making for easy clean-up and release of food (the pizza did amazing on it, seriously).
The Simply Calphalon Nonstick pans worked great for my omelet, some bacon, and for sautéing up some onions for the pizza.
We were a little unsure about them at first, since they're different from the current pans we use, but we were both pleasantly surprised with their performance.
Nice, easy clean-up, comfortable silicone handles, and hard-anodized aluminum for durability.
They also have a large line of utensils tools – both nylon and wooden – and offer a lifetime warranty.
Thanks again, Sears and Calphalon!
Dessert
Okay, of course I can't go without my dessert – even if we didn't finish dinner until about 8pm – so I ended the evening with a couple of my Godiva truffles.
Seriously…the Caramel Truffle Flight is out. of. this. world. Oh, and I guess we'll say Lucas had his bottle of whole milk at bedtime for his dessert? Because mama doesn't share her chocolate.
So that's all I have for WIAW today, but before signing off, I want to offer a little something…
I'd like to give away this awesome Simply Calphalon cupcake pan/holder that I received, along with a few other hand-selected goodies from Yours Truly, as a thank you for reading along with me. I really appreciate you guys so, so much.
To enter, just leave me a positive comment on today's post. I'll choose a random winner (U.S. residents only, please!) on Friday, 9/19. Good luck, and thank you you so much for reading STSL.