Howdy howdy! How are we all doing on this fine, rainy Wednesday morning? I'm pretty sure I slept wrong last night and am working through a lovely kink in my neck this morning. Hate when that happens, right?!? Hey, at least I got a decent amount of sleep, so I can't complain.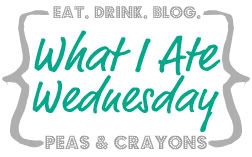 So, you're not going to find too many veggies in today's edition of What I Ate Wednesday Tuesday (surprise). After the abundance of veggies I had at dinner on Monday evening, me and the tummy were definitely not quite ready for too many more yesterday. That dinner seriously did a number on me, sheesh!
BUT, you will still find some yummy stuff, so let's get to it…
8:30am – Breakfast
You've already seen it, but that's ok. Yummy enough to share again.
But not super filling, so I had plenty of room for my mid-morning snack…
10:45am – Mid-Morning Snack
A slice of low-fat banana bread topped with some Justin's honey peanut butter.
I also ended up slicing off one of the heels of the bread shortly after taking it out of the oven too.
1:45pm – Lunch
And then, because I am officially obsessed with all baked goods in my house, I had my third slice of it with lunch…
Must. Step. Away. From. The. Banana. Bread.
Of course, that wasn't all I had…I also cooked up a quick and easy egg white scramble made with diced tomatoes and feta cheese.
It was so, so good.
3:30 – Mid-Afternoon Snack
A mixed fruit bowl, made with half a banana, cantaloupe, strawberries, and red grapes. Pretty and colorful, right?
You know, we almost always have red grapes in the house (they're one of Jay's favorites) but I hardly ever eat them. I have no idea why, because I always enjoy them myself…may have to change that up now.
6:45pm – Dinner
I had to head into work later last night but didn't leave myself enough time to put together much more than a sandwich.
No biggie though…check this thing out. It was amazing.
Whole wheat bread, honey mustard, low-sodium turkey, provolone cheese, turkey bacon, lettuce, and tomatoes. The only thing I forgot?
The pickles.
9:00pm – Evening Dessert
I had a little bit of a trying evening last night, and I wound up attempting to comfort myself with food, including a leftover cupcake from Saturday (Oreo) and then a WW Snack Size Caramel Swirl Ice Cream Cone.
source
These were on sale last week so I grabbed 'em on a whim. They're very tasty, only 90 calories, but they're definitely snack size.
So there ya have it, folks – another WIAW officially in the books! Could have been better, could have been worse, but it was all enjoyed just the same.
Question for the Morning: What are you more likely to grab for:
Fruits or veggies?
Nut butter or a handful of nuts?
Ice cream or a cupcake?