So as I'm sitting down to type this post, I'm pretty sure I'm dripping sweat all over my keyboard. How's that for a lovely visual for you on your Wednesday morning?
Well, it is what it is! I just finished up another T25 video and realized I never really recapped week 4 of the program. Granted, my "recaps" are pretty lame so I'm not sure I should really even call them that. But at any rate…week 4. I ended up having to re-do week 4 since it originally fell during the week before/during Lucas's party and I just didn't have the mental capacity to handle anything extra at that point.
Ok Ryan, if you say so.
I got it in all of the workouts except one cardio session, which I've noticed is the first video I find an excuse to miss. Not quite sure why…I don't have anything against it.
I have found that some of the workouts and exercises are starting to feel a little less laborious, which is certainly a welcomed result. In terms of losing weight/inches? I'm not really tracking any inches lost, but I can tell you that the scale hasn't moved. Pretty sure I have some birthday cake and beer to thank for that. But hey, at least it all works out so I break even, right?
I'm looking forward to finishing up week 5 because that means I get to move on to the beta round, which begins to incorporate weights and resistance bands (hallelujah!). I have seriously missed my weights. But until then, I've got two more rounds of total body ahead of me…
That one is a doozy, by the way.
So now that we've got that out of the way, let's go ahead and get to the second half of today's post…it's WIAW, people!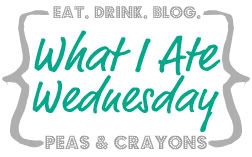 Heeeeeere we go.
Breakfast
A sausage egg and cheese on an English muffin (totally not homemade – had a coupon for some Jimmy Dean Delights sandwiches and got those…they're not bad!) + the usual iced coffee.
I ran out of my usual 1% milk so I stole a little bit of Lucas's whole milk…umm, SO good.
Mid-Morning Snack
A banana + peanut butter because, well, it's the best.
Lunch
A delicious salad with a few new toppings, including some sautéed black beans that I cooked up on Monday and some wheatberries (or were they spelt berries? I can't remember).
I loved the new flavors and added chew…super thankful I made two of these bad boys while I was prepping some meals on Monday!
Mid-Afternoon Snack
A vanilla Greek yogurt + some trail mix. The trail mix is from TJ's with cashews, almonds, pistachios, dried cranberries, dried cherries, and dark chocolate.
Basically the best combo ever.
I also had a couple handfuls of grapes shortly after I got home from work.
Dinner
My friends, it is very rare for us to have an actual sit-down meal in our home these days. I mean, yes, we sit down for meals, but there's a lot of sandwiches and last minute things getting thrown together. So when we have the chance to actually have a protein + carb + veggie all together, I'm a happy camper.
Before sitting down to dinner, a cut up a fresh tomato from my dad's garden and snacked on that sprinkled with a little salt.
There is really nothing like a summer tomato, if you ask me. SO good.
Said tomato was enjoyed while feeding Lucas meatballs. He was too impatient to wait for us to eat.
I get it, kid. When you're hungry, you're hungry.
For dinner, we had parmesan crusted tilapia (it was just okay), more wheat/spelt berries (I really should just go look at the bag), and green beans…and while it may be simple, sometimes healthy + simple is just the way to go.
And sometimes, it's also all I have time for.
Dessert
After dinner, I ended up snacking on another handful of trail mix, a spoonful or two of leftover frosting, and then I sat down with a vanilla bean Yasso greek yogurt bar.
They were BOGO a couple of weeks ago at Price Chopper so I figured I'd give them a try. The vanilla bean ones are alright, but the salted caramel ones were freakin' delicious. We finished those up rather quickly.
So that's what's going on with meeeeee…what's up with all of YOU?