Yesterday was exhausting. Whew.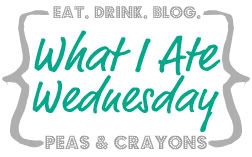 Lucas was having another one of his "I'm too cool for naps" days, so that meant very little time for anything else for this mama. Usually when he's had these days in the past, he's still in a pretty good mood, but not yesterday. He was grumpy for a good majority of the afternoon and really only seemed content when mom was holding him…but we couldn't be sitting. Oh no…we had to be standing. So while I may have missed out on my planned workout, I certainly wasn't sitting around like a couch potato!
I'm still sort of playing along with WIAW today, but it's a mash up of things from Monday AND Tuesday. So I guess, technically, I'm cheating. Oh well.
Breakfast
This was yesterday's breakfast – frosted shredded wheat with unsweetened vanilla almond milk and banana slices.
I also enjoyed my morning cup of pumpkin coffee while Lucas played on his play mat. This was before the boycotting of naps began for the day.
Lunch
This was part of my lunch on Monday and boy, was it delicious. Just check out that color!
Mixed greens, cucumber, grape tomatoes, carrots, and avocado. I also wound up having a piece of toast with PB&J a couple hours later since the salad wasn't super substantial.
Necessary Afternoon Coffee
This one was from yesterday. Around noon time I had to head out to run a couple of errands, and while we were out Lucas wound up falling asleep in his car seat.
Although he has managed to sleep through the car to house exchange, I didn't want to risk it given his lack of sleep, so I just continued to drive. I got through all of my errands, grabbed the coffee at the drive-thru, and then just continued hanging out in the car until he woke up about 40 minutes later. Ohh, the things we do!
Dinner
This dinner was from Monday…a baked sweet potato, which tasted amaaaaazing, frozen green beans and almonds, and baked cod which was actually pretty awful.
I found a recipe from allrecipes, but Jay and I decided we didn't think it was the recipe that was bad…we think it was the fish. It just smelled way too "fishy" and just didn't taste right. We each wound up having a few bites then just threw out the rest. Such a bummer, but blech. The house still smelled like fish yesterday too…not exactly a good sign of fresh fish, eh?
Dessert
Ohh, you guys know I'm loving my yogurt dessert still!
Mixed with the usual PB2, mini chocolate chips, and Cascadian Farms Cinnamon Crunch cereal, which I received in the mail a couple of weeks ago. It's yummy (reminds me a lot of cinnamon toast crunch cereal) but better for me as a dessert rather than breakfast.
That's all I've got for ya for food pics, my friends. So before signing off, I'll leave ya with one of my new favorite pictures of Lucas.
Jay shared that on his Instagram the other day and I just love it. My happy little (growing!) boy. <3