1. Today is Friday the 13th. Beware today, my friends. You're welcome.
2. Next week, our area is getting its first ever Whole Foods. I've only been a couple of times in my life (once while blogger grocery shopping, the other while at FitBloggin' back in 2011).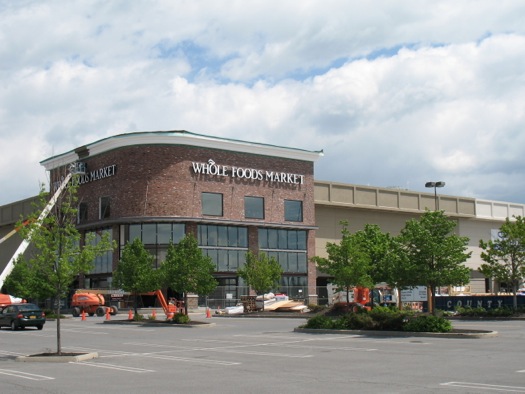 I'm pretty pumped about it, but I feel like I'd be insane to even attempt going to it within the first few months of opening. If it's anything like when Trader Joe's opened up in our area a couple of years ago, then it's gonna be a madhouse.
3. Thanks to Chelsey giving me the push, I wound up checking out Hobby Lobby for the first time yesterday during my lunch hour. We only have one of them around here, which opened up a couple of years ago (I think?) but it's, like, the best store ever. Think Michael's + Marshalls all in one. I could have done some major damage in that place.
4. I am totally back in my morning workout groove right now and I. Am. Loving. It. This week, I managed 4 workouts(!), which included some kickboxing, two days of yoga, and a strength/cardio NTC app workout. It feels so nice to finally have a bit of a routine again, but wow have I been huuuuungry.
5. My allergies were nutzo last night. Like, I could not step away from the box of tissues for a good two hours. Oh, and speaking of allergies…did I tell you guys that I started up getting my allergy shots again? After discovering that my current insurance doesn't require copays for every single visit (1-2x/week right now) I knew I had to stop putting it off and go back again…something's gotta give on these bajillion allergies I have.
6. I have a super odd, kinda gross obsession with blackheads. It's ridiculous, and it's been that way for yearrrrrs. Even when I still lived at home with my parents and brother, I would beg my brother to let me squeeze his blackheads (I know, right?). And even today, I will spend a stupid amount of time fixating on one. I don't know…something about the satisfaction of finally getting rid of it I guess? But anywho, now that I've totally grossed you out…
7. So yesterday, I was totally the mom that freaks out and brings her baby to the doctor's office because…well, basically, he was crying. Yep. I'm sure the nurses were laughing at me, but it's cool. In my defense, he was inconsolably crying when I picked him up from the sitter (I had never seen him that way before ever…broke my heart) and there was just something about it that totally freaked me out. So I just went with my gut, and thankfully everything checked out okay and he was fine the rest of the evening. Who knows…maybe the boy just had to fart.
8. Speaking of the boy…
For about the past week or so, we officially have a walker on our hands. Lord, help us.
Happy Friday, friends! Have a great day and a fab weekend (and Happy Father's Day to all the dads out there!)