1. I don't know about you guys but I feel like this week absolutely flew by. And considering the fact that Jay was gone for almost three days, I would have definitely thought it would have been otherwise. But here we are…Friday. Wooo hooo!
2. Last night I met up with my college girlfriends for dinner and drinks in Saratoga. We went to a new-to-me restaurant, Jacob & Anthony's, and it was great. Sometimes, three hours sitting and chatting with girlfriends to catch up is just perfection, and that it was! It was definitely another great night out with friends. And hey, maybe that's why the week went by so fast…two weeknight outings in a week?!
3. You may have already seen this pic on Instagram, but I can't help but laugh when I see it.
This child does not let me drink my smoothies alone. Ever. As soon as he sees me go for either the blender or the bag of Shakeology, he's immediately right there asking for a "siiiip." I've finally gotten to the point where I make just a little bit extra so he can have some too. He loves it!
4. Quick heads up for you guys…I've had a few of you here and there ask me about the 21 Day Fix through Beachbody and I just wanted to let you all know that they're having an amazing deal this month on Challenge Packs with the 21 Day Fix, where you can basically get the workout program for only $10. Seriously. If you're at all interested, shoot me an email! (sweettoothcourtney at gmail dot com). They're the only workouts I've done so far this week and WOW, am I sore.
**Edited to add: I've had a huge response on this, and because I never ever want to be misleading, I want to add that the $10 price does NOT include the cost of the Shakeology in the Challenge Pack. The $10 is what the cost of the workout breaks down to with the discount. But if you emailed me, I'll give you all of the info ASAP!
4a. Oh, and while we're on the topic…have you guys heard about the NEW program coming out soon called CIZE? My fellow Shaun T loving fans will likely get excited about this one…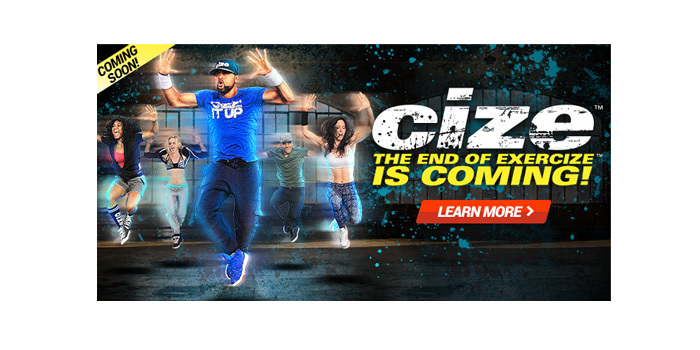 CIZE is all about making exercise fun with dance, helping you master professionally choreographed routines, step-by-step. For those that don't totally love the monotony of traditional forms of exercise (i.e., weight work and cardio drills), this could definitely be for you. You can check out the trailer here, and feel free to drop me an email if you're interested – it's set to launch July 20th!
5. I have seriously been loving Ebates. I still can't believe I waited so long to sign up. After purchasing a few new things for our house since I signed up, I've already earned almost $100 back. You can't beat it!!
6. So my plan was to share my latest Stitch Fix with you guys yesterday, but I quickly realized that I actually took all of the pictures of my outfits on Jay's phone…which was obviously with him while he was away. Dumb move. Ahh well…I'm sure I'll have that to share with you guys early next week! And since I didn't have much else to say yesterday, I took Wednesday evening off and hung out with the 'rents while eating ice cream. #winning
7. In the past two weeks or so, I think I've had a fairly decent amount of alcohol. It started right after we first found out the news, where I quickly took the attitude of "well eff it, I'm going to drink." And it's basically been that way ever since. I mean don't get me wrong…it's not like I'm getting wasted every night. But a glass of wine here, a beer there, a pitcher of sangria…whoops on that one. I guess I'm not really sure why I'm telling you this, because I don't intend to follow it up with the whole "I need to cut back." Because honestly, with all the chaos going on, I'm good right now. And the drinks are tasty.
8. And while we're at it, my food has been ALL over the place too. One day, I'll eat a day full of great eats, veggies and all. But take Wednesday, for example…munchkins and a banana for breakfast, a big salad for lunch with deli chicken and avocado, leftover pretzel bites for "dinner," followed up with a huge bowl of cookie dough ice cream topped with caramel. Not one of my better days, right? But the reason I AM telling you this one is to remind you that nobody is perfect. Don't beat yourself up over something as silly as that! If it tastes good, enjoy it, and move on.
8. If you guys get the opportunity, you've most definitely got to try the Mighty Flakes from Love Grown Foods. They are seriously becoming a favorite of mine.
The chocolate ones are awesome just as a snack on their own, and perfect for breaking up the afternoon.
9. Did anyone check out "Prime Day" this past Wednesday on Amazon? I got all excited, and was ready to check it out…until I discovered that they basically had nothing good on sale. What the heck?! I did, however, buy Lucas a new potty…!
10. Thanks so much to everyone who entered the NatureBox giveaway! The winner has been announced on the Rafflecopter widget on the original post and emailed (congrats Erin!), so if it wasn't you, you can still check out that free trial!
Ok guys…I'm finishing this up at about 5:45am this morning and now it's about time to head down to the basement for a workout. I hope you guys all had a great week, have a fabulous Friday, and a wonderful weekend ahead – whatever you may be doing!