They always say good news comes in threes, right? Well, I've got three little pieces of good news this evening!
Good News #1: I got my nap!
I was able to spend a good hour outside this afternoon in the beautiful sunshine, listening to nothing else but the birds chirping all around me. Well, almost nothing else…
A certain somebody tends to get a little vocal when his mom or dad are outside and he isn't. After about five minutes, he calmed down and had fun watching the squirrels in the trees. It doesn't take much to keep the little guy amused.
Being outside in the peace and quiet today was just so calm and serene, and only made me realize that I really need to make more opportunities like that for myself. I felt SO much better afterward, even though I only probably slept for about 20 minutes. Ahhhhhh.
Good News #2: Another incredibly delicious dinner was had this evening.
I know that good news #1 & #2 really don't affect you, but I promise, #3 might.
I picked up some 93% lean ground beef from the butcher a couple of days ago so that we'd be able to cook burgers at some point during the week. Jay took care of making the burgers earlier today (since cooking red meat is his thing), using lots of yummy ingredients like chopped onion, garlic, paprika, Worcestershire sauce, and some others I'm sure I'm forgetting, My man sure knows how to make a mean burger.
Since it was an absolutely perfect night to fire up the grill, we declared tonight burger night. I picked up some Kaiser rolls on the way home from work this afternoon, but they ended up being WAY too big for these burgers (they were not as small as they look – 1/4lb. each).
I decided to ditch the top half of the bun and attempted to do some sort of makeshift burger on the other half. Let's just say, Jay got a bit of a kick out of me. It was not a pretty sight…
I gave up about two bites in and wound up "fork and knifing" it. Still tasted just as good.
On the side, I sautéed some diced sweet potatoes (I change from the usual) and Jay made another batch of his garlicky green beans.
The sides were good, but Jay's burger totally stole the show. It's not often that I get a craving for burgers, but when I do, I want a good one…but not one that's going to leave me feeling like a greasy load when I'm finished. That's the worst.
It's funny actually, because quite often, beef and red meat get a pretty bad rap. If you had asked me about 3-4 years ago, I probably would have told you the same thing – it's bad! At that point, there was no way you'd see me eating a burger…but then again, that's a whole other story, and I'm so glad to be beyond that.
Truth is, lean beef has some great nutritional benefits…which leads me to:
Good News #3: I've got something to give away this evening!
A couple of weeks ago, I was contacted by The Beef Checkoff program – you know, the one that I'm sure you've all heard of before –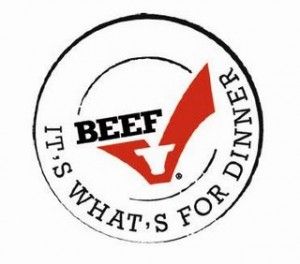 asking if I would be interested in participating in the BOLD Lean Beef Challenge. Since I'm always game for a challenge, and I enjoy some nice lean beef every now and then, I decided to give it a go.
Recently, the Beef in an Optimal Lean Diet (BOLD) study found consuming lean beef daily as part of a heart-healthy diet lowered LDL "bad" cholesterol by 10 percent, providing support that nutrient-rich lean beef can be an everyday part of a heart-healthy diet.
Some Facts about Lean Beef:
On average, a 3-oz. serving of lean beef is about 150 calories.
Beef is an excellent source of nutrients, including protein, zinc, vitamin B12, vitamin B6 and niacin.
Many of the most popular beef cuts sold at retail are lean, including T-Bone, Tenderloin, Top Sirloin and more.
So as a part of my challenge, in the next week or two, I'm going to try incorporating some different cuts of lean beef and try out some new recipes from The Healthy Beef Cookbook.
There are some amazing sounding recipes in here and I've already got quite a few of them "tagged" to try out. But the good news?
I've got two extra copies of the cookbook to giveaway!
To Enter: Leave a comment on this post sharing some of your favorite ways to cook lean beef. *You can also get a bonus entry for sharing a link to one of your favorite lean beef recipes (your own or another favorite!)
I'll choose the two winners of the cookbooks on Friday, March 23rd. Good Luck!
Disclaimer: The Beef Checkoff provided me with the cookbooks to giveaway to readers and a gift card to try out some lean beef recipes for myself. You know I'm a meat eater…all opinions on this are from strictly from Yours Truly!