Thanks so much to those of you who've been linking up your posts today to the June Yoga Challenge. I love reading all of your recaps, so keep 'em coming! You can link them up HERE.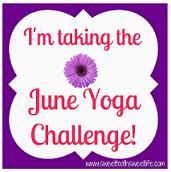 Now, I know there were quite a few of you who had said you were very interested in taking part in the challenge when it was first announced. Perhaps some of you are still on the fence, or just haven't gotten around to it. It's okay, I totally get it. BUT, I have a little something to share with you all today, which may in fact change your mind. Let's say I'm "upping the ante," if you will…
I reached out to my friends at Aurorae Yoga, the makers of my new favorite yoga mat, to let them know about the June Yoga Challenge and to see if they'd like to get involved. Well, sure enough, they have generously offered to giveaway one Northern Lights Yoga Mat + Slip Free Rosin Bag to a lucky challenge participant.
The giveaway will not be held until the very end of the month, when the challenge is complete. But in order to be entered in to the giveaway you have to link up those posts! For every recap post you link, you'll receive one entry into the giveaway (that means a total of 4 possible entries!).
**Edited to add: If you don't have a blog, that's OKAY! Just email me with a quick recap of how your challenge week went on the Friday that we link up. You'll still earn your entries that way! :)
After the final recap linkup post has been completed, I will then tally up the entries and randomly choose a winner on June 30th.
So if there are some of you who still weren't quite sure whether or not to join in on the fun, now you've got a little something fun to work towards.
Now let's go ahead and cheer om each other on with this challenge!
(*Reminder: This is not a giveaway post – no need to enter yet!*)