I have partnered with belVita and Dannon to help promote the belVita and Dannon
partnership. I have been compensated for my time commitment to the program, which
includes writing about the promotion and product. However, my opinions are entirely my own and I have not been paid to publish positive comments.
*****
Goooood morning!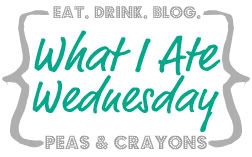 We've made it to yet another WIAW (I swear, didn't we just do this song and dance??). Today's post features most of Monday's eats, with a slight cheat towards the end of the post. Honestly, I know that there are things missing too, since Monday was somewhat of a hectic one, so there were quite a few random "little bites" of things here or there that went undocumented. But really, you guys get the drift on these by now. ;)
So let's get to it!
Breakfast
A package of belVita blueberry breakfast biscuits + a vanilla Oikos Greek yogurt.
That photo is actually recycled from Sunday, but I had the same thing yesterday (and Monday), just at my desk at work.
Typically, I think you guys know I try my best to do as much prep work as possible for my breakfasts and lunches the night before. It's honestly the only way I can stay sane in the mornings and even the slightest bit organized. Sometimes, however, life gets the best of me and I need something I can grab quickly. Especially since skipping breakfast is never, ever an option. Ever.
Well this breakfast of Crunchy belVita Breakfast Biscuits + Dannon Oikos Greek yogurt has been a lifesaver for me this week. For realz.
While I've been a fan of the Oikos Greek yogurt for a while now, with it's 12g of protein in each cup, I was really excited to try it out with the belVita Breakfast Biscuits, thanks to a partnership through FitFluential.
The Crunchy belVita Breakfast Biscuits are available in five flavors – Blueberry, Golden
Oat, Cinnamon Brown Sugar, Chocolate and Apple Cinnamon. My store only had the blueberry but I'm totally intrigued (and on the lookout) for the other flavors (especially the cinnamon brown sugar!).
Each pack contains four biscuits, which are delicious both on their own or crushed up and tossed right into the yogurt…but that shouldn't surprise you that I'd do that, does it? I love crushing up things and putting 'em in my yogurt. Or ice cream, for that matter.
If it tells you anything, I bought the box of belVitas on Saturday, and they're already gone. They proved to not only be delish at breakfast, but for snacks too.
In the words of Laura Stack, The Productivity Pro, who's joined up on the initiative with belVita and Oikos…
The secret to a smooth, sane morning is doing as much as you can the night
before. Leave as little preparation as possible until the last minute – you'll thank
yourself in the morning.
Spend twenty minutes at the end of each day planning your to-do list. When you
download the next day's activities beforehand, you can devote your morning to
enjoyment rather than stress.
Amen to that. A stress-free morning is where it's at.
Mid-Morning Snack
I planned on having a banana with my breakfast but got busy and didn't get a chance to have it until a couple of hours later. So I snacked on that with some vanilla almond butter.
Recycled photo, but this snack never gets old.
Lunch
Yummmmm.
Another delish salad with all of the usual suspects + deli turkey, croutons, and feta.
A little while after I finished my salad I also snacked on a bag of sweet potato popchips that were stashed in my desk.
Early Evening Snacking
As you guys already know, I was rushing around like crazy Monday evening. I was starving while getting Lucas's dinner settled so I wound up snacking on a few things, including a hardboiled egg white (he was eating the yolk),
a couple bites of leftover stuffing from Easter,
and a few pieces of Easter candy. It's not as if we don't have enough to spare or anything, right? ;)
Finally, you guys know I ended up having my bowl of cereal for dinner, so I thought I'd cheat and share last night's dinner instead. Last night was another whirlwind of an evening, so it wasn't necessarily fancy, but it still tasted good for being thrown together in about 20 minutes.
My original plan was to make some Chicken Parm Burgers, but I realized after the fact that I didn't have the right cheese or sauce. So I improvised and came up with a cheddar, bacon, and bbq chicken burger instead. Minus the fact that the bbq sauce we have is ridiculously spicy, these burgers were actually way more delicious than I expected for having thrown them together without any measuring. Only thing missing was the bun. And it was missed.
Dinner was another late one yesterday so I had a couple more pieces of Easter candy shortly after before calling it a night. I'll tell ya…I am definitely looking forward to some more low-key evenings with real dinners. I don't think that'll be happening until next week though, since we're headed out tonight to visit with Sarah and Jeff(!), and then I leave on Thursday for a quick trip down to New York City (details to come!).
Happy Wednesday, my friends. I'll chat with you soon. ;)