Alright, so I guess I lied. That whole thing about Lucas being on the mend? Meh…not really. (I'm typing this up on Tuesday evening so…) Last night (Monday night) was a rough one. Little man was up from about 11:30pm-2:30am and then woke up sound absolutely awful with a nasty cough and runny nose, so I wound up taking the day to work from home and stay with him. He seemed to have gotten a bit better as the day went on but let me tell ya…staying home with a sick baby is no fun.
Since Tuesday nights are Jay's snowboarding night, that meant that I was on mommy duty all day. Typically this would be nothing but pure joy for me (a full day just me and my baby?! Yay!), but it's a whole different ballgame when they're sick. Needless to say, once he finally went down for the evening, this mommy poured her glass a biggggg ol' glass of wine.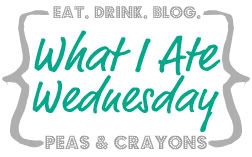 Hey, no judging.
So keep your fingers crossed for me that I get a little more sleep tonight as we move on to the main topic of today's post…WIAW! Today's post features all of Monday's eats, some of which will be of no surprise to ya if you read yesterday's post. Soooo, let's get to it!
Breakfast
Whipped banana oats with strawberries and a scoop of peanut butter + a grande Starbucks coffee.
Since Starbucks no longer carries my Caramel Flan OR Caramel Brulee syrup (both were seasonal…tear) I've had to get creative. So my most recent order as of late is a grande Blonde Roast with steamed non-fat milk + 1/2 pump white mocha + 1 pump caramel. Amazing.
Mid-Morning Snack
While I did the whole pumping thang, I snacked on a banana.
And when I got back to my desk, I also had two peanut butter and chocolate chip energy bites (*I recently wrote up the recipe for these on my most recent post on The Daily Bubble – be sure to check it out!)
Lunch
I'm still on a pretty decent salad kick for lunch, but I decided to switch this one up a bit from the usual. Over the weekend, I prepped a big batch of spelt berries to have for the week, so I added those to some mixed greens along with cucumbers, grape tomatoes, roasted broccoli, hardboiled egg whites, and a wedge of The Laughing Cow Light Swiss Cheese.
The swap of ingredients and flavors was definitely a nice way to break up the usual, and I've been loving the addition of the chewy spelt berries. Yum!
Mid-Afternoon Snack
I honestly wasn't all that hungry, but I knew I had some of my sunshine (veggie) chips  from NatureBox stashed in my desk at work, so I wound up snacking on a couple handfuls of those.
And, as you guys already know, once I got home from work I snacked on a crispy rice treat from Treat House.
Dinner
This one is also no surprise to ya…Chicken & Veggie Stir Fry.
And neither is the second cripsy rice treat that I told ya I snagged after dinner…
As if I hadn't already had enough sweet stuff though, I still wound up having a little something more…
Dessert
This is a recycled photo, but last night's dish looked pretty similar…
Edy's Slow Churned Caramel Delight with some Heath bits on top. Mmm mmmm.
Now that I have this post done and my glass of wine is finished, I think it's about time to crawl into bed (yes, it's 8pm…remember, no judging) and spend a little quiet time reading my most recent Book Club book. Yep, I'm actually reading it this time! We're reading Gone Girl, in case you're curious…I'm about 1/3 of the way into it and I'm totally hooked! Anyone else read it?
Happy Wednesday, friends! Make it a great one!