I am feeling sleeeeeeepy this morning.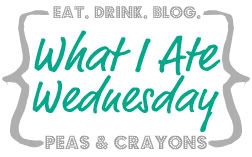 The movie we wound up going to see last night ended up being a little longer than we expected, and since the theater was a good 25 minutes away from our house, we didn't get home until pretty late. Combine that with the fact that I wound up with a raging case of hormones on the way home and had a crying/sobbing fest for a good hour…well, yeah. I'm a little tired today.
Thankfully, my hormones seem to be somewhat back in check this morning and I'm really just dealing with a case of some pretty puffy eyes. Other than that, I'm good to go. So now that you all know what a sobbing mess I was last night (oh, it's funny to look back on!), let's get to the real meat and potatoes of today…it's What I Ate Wednesday Tuesday.
Breakfast
It was a grab-'n'-go kinda morning yesterday, so on my way out the door, I quickly sliced off a piece of banana bread and grabbed a banana to go with it. Oh yeah…and I had time to stop for another iced coffee from Stewart's.
I really need to stop that…
Mid-Morning Snack
Just a simple apple. Definitely did the trick
Lunch
I made myself a sandwich with some TJ's roasted turkey, spinach, a wedge of The Laughing Cow Light French Onion cheese, and honey mustard, all on a whole wheat sandwich thin. I feel like it had been SO long since I had a sandwich like that and it really hit the spot.
On the side, I had some baby carrots and guacamole hummus…somewhat of an odd combo, but I just love that guac.
Shortly after lunch I still wanted a little something else, so I dug in to the container of strawberries that I packed up.
I almost forgot to snap a photo of them, but there was definitely at least 4x that amount there. They're actually starting to taste pretty darn good right now!
And then, there was little chocolate too. ;)
I never wound up having time for (or needing) an afternoon snack, but by the time I got home from work I was more than ready for dinner.
Dinner
This meal was actually eaten in the car on the way to the movie theater, since we had to leave pretty quickly after work. But it was no big deal…I had Jay to drive so I could chow down.
My dinner-on-the-fly of choice was a whole wheat bagel topped with peanut butter and jelly. It. Was. So. Good.
Movie Snacks
So as I mentioned yesterday (and about three lines up) Jay and I headed out to the movies last night to see The Place Beyond the Pines. The theater we went to actually has $6.00 movie nights on Tuesdays AND $1.00 popcorn, so that helped keep things nice and cheap. Of course, when there's $1.00 popcorn, you can't really pass that up, can you?
No, you can't. So we got that to share, AND I also wound up with a huge hankering for some sort of chewy, fruity candy, so we got a box of Mike & Ike's to share.
As for the movie? Definitely interesting and TOTALLY not what any of us were expecting. In a way, it almost sort of felt like we were watching three separate movies back to back, because certain parts of the story seemed to end quite abruptly, and would then move on to something different.
But overall, it was certainly an intriguing movie and it was pretty cool to see so many local landmarks on the big screen. It was funny to listen to the theater because anytime a certain building/street/location would come up, people would start whispering, "Oh, that's so and so!" And there's actually a diner that's in quite a few scenes of the movie, which Jay and I wound up passing on our way home.
Have a great Wednesday, everyone!