So I figured that since I've been filling you in with all of my Blend Retreat recaps for the past couple days, today would be the perfect day to give you all another one…foodie style.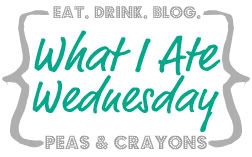 How fitting, right? Now I'm sure many of you have seen other recaps including the food at Blend this past weekend, but at this point, what's one more right? Right! SO let's get to it.
Breakfast – 8:30am
On Saturday morning after our bootcamp, we were all treated to an amazing spread of breakfast treats sponsored by Xagave.
Not only was I impressed with the spread of food, but the decorations on the tables were so eye-catching; you could tell that they really put a lot of time and thought into it, which was very much appreciated by all.
I loaded up with a little bit of everything…a plain Chobani paired with some Xagave syrup (<—awesome, btw), fresh fruit, sliced almonds, and a local lemon blueberry granola that was delicious.
A piece of toast with PB&J + a carrot cake muffin, which was made with Xagave and whole wheat flour (it was delicious)
And, of course, some coffee. Green Mountain provided the coffee and the Vanilla Caramel flavor that I tried was so good that I had to go back for a second cup.
Snack – 11:30am-ish?
Some granola I packed up with me on the hike.
Didn't have much of it though…I was too preoccupied with the scenery.
Lunch – 1:00pm
Once we arrived back from our hike, we wound up sitting and chatting in our lodge, which also happened to have some of the leftovers from breakfast. Rather than going somewhere and spending money, and due to the fact that we were feeling a bit lazy, dirty, and smelly, we stayed in and made use of what we had.
I made a PB&J on a bagel thin, along with a bag of Beanitos and one of those blueberry muffins you see there. I was huuuungry…that hiking was intense!
Dinner – 6:00pm
Once we were finally showered and feeling human again, Alyssa, Tina, Jillian, Julie, and her husband Terry headed into downtown Boulder for dinner at Avery Brewing Company.
We had heard people talking about Avery during the day, and all of us decided that we were definitely in the mood for a nice, cold brew.
Once we got there, we saw that they offered 4oz. samples of most of their beers for just a $1.00, so we all ended up picking four to try.
I wound up getting four different Belgian-style ales to try.
I'm pretty sure my favorite was the White Rascal Belgian (pictured far left, above). It was almost champagne-like, which was nice and refreshing.
For dinner, both Tina and I ordered the Turkey Bacon sandwich, which came with avocado, cole slaw, and chips.
The thing was massive, but it was so good that I ended up eating the whole thing.
AND a few sweet potato nuggets that we all got to share.
After dinner, we left Avery and headed over to Rio Grande to meet up with some other lovely ladies who had already been there for a little while. Being that it WAS Cinco de Mayo and all, we made sure to celebrate properly with a fresh margarita.
Celebratory Margarita – Let's say 8:00pm-ish?
Those puppies were strong, my friends. But they were good.
Some shenanigans ensued, and there certainly was no shortage of laughs, as if you couldn't already tell from Lindsay's face.
As if we hadn't already eaten and drank enough for the night, we continued the evening on a mission to find some frozen yogurt.
Evening Dessert – 10:00pm? Who knows…
We had two failed attempts at frozen yogurt, but they did finally lead us to a local gelato place. Of course, I had to try about 100 samples before making a decision.
End result? Half Indonesian Vanilla, half Malt Chocolate Chip…err, something like that.
It was definitely good…but it was no frozen yogurt.
Talk about a good, full day of eats, right? Man, just posting this is making me hungry again.
*****
Right now, I'm actually on my way to NYC for a super fun FITNESS Blogger Meet & Tweet! If you want to follow along on Twitter, I'll be tweeting along with the hashtag #fitblognyc. Otherwise, I'll catch ya'll with a recap soon!