Hello and happy Wednesday to you all!
I realized it had been a while since I did a true WIAW post, so I decided to join in on the action today. If you've been reading for a while, then you know what WIAW is all about…a full day of eats! Today's post features all of yesterday's eats, and I actually did manage to document just about all of them…with the exception of a couple graham crackers I snacked on in the morning while getting breakfast ready to go.
So let's dive right in…
Breakfast: Chocolate, peanut butter, banana smoothie (made with Shakeology) + a cookie dough iced coffee
I've been trying really hard to cut back on the cookie dough iced coffees…but I'm not succeeding by any means. It's an ongoing problem.  And it's funny…I'm definitely more of a Dunkin' coffee person once iced coffee season hits, but Starbucks is totally my jam during the cooler months (I love their hot coffee). I honestly couldn't tell you the last time I had a hot coffee from DD's? So strange.
Mid-Morning Snack: I finished up a box of Blue Diamond Almond Nut-Thin crackers with some peanut butter.
old photo from last week
Lunch: I put together some leftovers from Monday night's dinner, which was SO good, by the way! Grilled chicken with a strawberry and avocado salsa/salad + brown rice.
The recipe was from Cooking Light (can't find the exact one online for some reason, but THIS ONE is similar) and we both totally loved it. So light and fresh tasting…perfect for spring and summer, and I'm sure it'd be good on basically anything. Definitely keeping that one in my back pocket.
Shortly after I finished up lunch, I snacked on a couple of cookies that I snagged from our cafeteria.
I just can't pass up cookies when I see 'em.
Mid-Afternoon Snacks: After work is what started my somewhat "snacky" late afternoon and evening…beginning with a bag of fresh strawberries.
They were a super good batch!
Shortly after we arrived home, I also snacked on (aka, finished up) this bag of salt & pepper lentil loops from NatureBox (who sent me the sweetest box for Mother's Day – thanks guys!).
The fact that they were made of lentils made me question their taste before trying, but sure enough, they were awesome. Lucas was also a fan too, which surprised me, since they had a little zip to 'em.
Speaking of my Lucas…
Can I just say it what a victory it was to get him to actually eat something for dinner last night?!? This current "picky eating" phase is throwing me for a loop. Nothing is consistent, so basically nothing is safe (except Nutrigrain bars, spoonfuls of peanut butter, and crackers…sigh…). So I decided to take a stab at attempting some Easy Cheesy Spinach Pasta and thank goodness, it was a hit! He ate an enormous bowl of it, on top of some applesauce and two yogurts, so yes…I considered that a major victory.
And since this is a WIAW post, I'll let you know that I polished off whatever was remaining in his bowl when he declared he was finished with it.
That pasta is good for the whole family!
Dinner: Since I'd been snacking quite a bit up to this point, I didn't have a huge appetite for dinner. And since Jay had a softball game, we really didn't have anything planned. So I just quickly reheated some leftovers from our dinner on Saturday.
After Dinner Treats: My sweet tooth was in full force yesterday evening. Not long after finishing my dinner, I grabbed two samoas (my faaaavorite)…
Along with a small handful of peanut m&m's. And then a little while after Jay got home from his game, we sat and had some bowls of watermelon sherbet with chocolate chunks.
Ohhhh, how I love me some watermelon sherbet once the weather warms up! And when I'm pregnant…but I promise, I'm not. Although, that would be a pretty fun/casual way to announce a pregnancy, wouldn't it? Like, oh by the way… Maybe something to consider for the future
Bahaha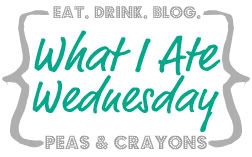 And that's that, my friends! How about you guys…what good stuff have you been eating lately?
Any awesome recipes you've come across? Fun new snack ideas?