*In case you missed it, the Baby Tooth page was updated yesterday!*
Well, I'm two weeks down with T25!
Last week was the second completed week of my adventure into T25. Out of the 6 workouts scheduled (one being an optional stretch), I completed 4 and also added in a different, 40 minute yoga DVD on Sunday. The one workout I skipped was the Cardio workout, which I was okay with because it's not my favorite out of the group, if we're being honest.
So far, things are still going great with the program and I'm finding myself eager to complete most of the workouts. I've found varying degrees of soreness with different workouts (my chest and shoulders were feeling pretty sore on Tuesday after Monday's Total Body Circuit video). I honestly don't have too much to report on other than that things are going well! I think I'm most excited to finally get to the Beta version (the Alpha version I'm doing now is the first 5 weeks) since I've never even viewed any of those videos and I know they begin to incorporate some extra resistance equipment, too. I will say that I do miss my weights!
But now on to the rest of today's post…it's WIAW!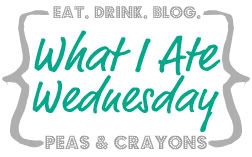 Breakfast
A whole grain English muffin with peanut butter and banana + an iced coffee.
Pretty typical, nothing you haven't seen before.
Mid-Morning Snack
The rest of my banana from breakfast + so. much. peanut butter. eaten straight from the knife.
My boss actually came over to my desk as I was just about to take a bite from the knife and had a blast giving me a bit of a hard time. Hey…no shame here.
I also had a blueberry muffin that went unphotographed.
Lunch
Nothing you haven't seen before!
A nice big salad with all the usual veggies, dried cranberries, feta, avocado, grilled chicken, and croutons with balsamic vinaigrette.
Mid-Afternoon Snack
I had to run out to Target on my lunch hour and wound up grabbing one of these Chobani flips.
The coconut yogurt has to be, by far, one of my favorite flavors from Chobani. It totally brings me back to being in Mexico and eating their incredible coconut ice cream for dessert at our lunches every day. Oh, take me back to Mexicoooo…
Pre-Dinner Adult Beverage
As I was getting dinner ready, I had a major hankering for a beer. I mean, it was Monday and all.
I came across this Summer Ale from BluePoint over the weekend after a stop at Trader Joe's and decided to give it a shot. It's pretty good, but I definitely like their blueberry beer (ßsuper old post alert!) way more.
Dinner
Hey, we actually cooked a real dinner…and even sat at the table for a change. Look at that!
On the menu were some tilapia (I used the same seasoning that I use for my tilapia tacos after my friend Morgan's recommendation!), some herb rice, and sautéed green beans.
Dessert
Pretty sure a few things went unaccounted for, including a handful of dark chocolate goji berries and a sheet of graham crackers. Then I wound up sitting down with an old pregnancy favorite of mine…
Oh, watermelon Italian ice. You are just the perfect thing for hot summer nights!
Speaking of hot summer nights…are we seriously already halfway through July?! Where is the time goooooing???