1. I want to thank you all so, so much for your comments, messages, and emails yesterday (including those from both my "real life" friends and my "internet" friends). It's possible that I may have more posts similar to that in the future, but because it really takes me a while to wrap my brain around them all, it may take some time. So for now, again, thank you. You guys are all so wonderful.
2. Loving all the entries I'm seeing for the NatureBox giveaway! You've still got until Sunday to enter, so make sure to get those entries in. Gahhh, I want some apple pie oat clusters like, right now.
3. Happy Halloween! Anyone dressing up today?? We have a costume for Lucas and we're hoping we'll be able to get him out trick or treating for a bit, but he's been sick all week AND doesn't exactly love his costume. Soooo, we'll see.
4. Now that it's Halloween, you know what that means…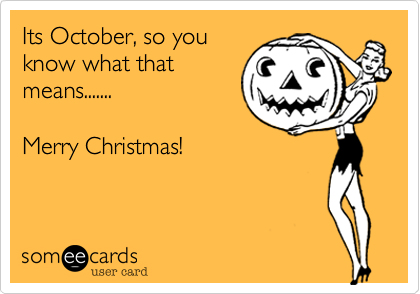 Saw that scene on Tuesday. I mean, I love me some Christmas but c'mon…I'll never understand.
5. Did you know TOMS is having a pretty decent sale up through today? I'm kinda crushin' on these classics and I love how they'd go with practically anything. Let's just forget the fact that in about a month it'll be all boots, all the time.
6. Don't forget…daylight savings time is this weekend! Don't forget to turn your clocks back an hour (WOOT WOOT for an extra hour of sleep…as long as Lucas lets us).
7. Earlier this week, I had the absolute BEST martini I have ever tasted in my entire life.
Jay and I had the pleasure of dining out at Bonefish Grill and trying out some of the items from their Fall Crush menu (it's only available until November 18th, so if you haven't already, you MUST go check it out!). I'm not typically a martini kinda gal, but our waiter totally sold me on it…and I'm so glad he did.
It seriously tasted just like apple cider. It could have been a very, very dangerous thing.
And the menu? WOW. Jay and I decided to order a few things right from the Fall Crush menu (gotta enjoy it while it's available!) and they certainly did NOT disappoint.
We got the lobster stuffed shrimp to start (omggggg, that stuffing)…
Jay got the Malbec Marinated Steak and Shrimp…
And I got the Swordfish with Pumpkin Ravioli, which did not stand a chance against me. I would eat this again, and again, and again.
As if we hadn't already had enough good food, we decided we couldn't leave without dessert, so we ordered their macadamia nut brownie (made fresh, in house!) sundae with warm raspberry sauce and vanilla ice cream.
Warm raspberry sauce is, like, basically the key to my heart.
Our whole dining experience at Bonefish Grill was amazing, from the food, to the service, and the staff (our waiter Brian was incredible, and the manager on that night, Michelle, was so friendly!). I did receive a gift card to test out the new menu, but my entire review up there is totally honest. There was not one thing we didn't like (ok, the spaghetti squash was just alright). So, PLEASE, go check it out…at least go sit at the bar and try that martini! And let me know if you do.
8. I have not worked out at all since Sunday, and it's actually felt nice to take a bit of a breather. I'm sure I'll be ready to get back into it this weekend, but for now, I'm just enjoying the extra 45 minutes of sleep in the morning.
9. Did you guys know that BJ's Wholesale Club sells coats? Like, I pretty good amount of them, too?
I was recently sent a gift card to check out their selection and try to find some coats for the fam, so Jay and I decided to go check it out before heading to our dinner reservations on Tuesday.
Jay found a few that he thought were nice, but either didn't love them enough to buy or already had something like it. I almost bought this coat for Lucas, but the smallest size they had was a 2T and I just don't know if he'll fit into that this winter.
For me, there were three that I actually really liked and was having a hard time deciding on…
But I eventually wound up going with this Zero Xposur down jacket.
Not too shabby on the savings, right??
Thanks again, BJ's, for opening my eyes to the rest of your store…not just the food and diaper isles!
10. I am SO excited that my girl Chelsey is finally back at the blog! She was gone for a while, but I'm so happy she decided to return because I've always loved her voice. Be sure to check her (and her adorable twin girls) out!
11. These two. They became best buds practically overnight. I love them.
12. Just a quick reminder that today is the LAST day to enter the third and final challenge for the Oster Versa 1100 Challengewith Fitness Magazine and Oster®! If you haven't already given this Fiery Red Salsa recipe a try, I'd highly recommend it.
Be sure to check out the recipe, make it for yourself, then enter to win! Just upload the picture to Instagram with the #versachallenge hashtag and you're entered to win some great prizes (including a grand prize $5000 Walmart shopping spree!).
13. This was a long, drawn out list of fun facts that technically were not all really facts, so I guess I semi-cheated today. Whoops.