How about a fun stability ball circuit workout to get the day started?!
As part of my fall/winter partnership with GNC, I'm teaming up with them to not only test out and share some of their products, but also to coordinate some fun, new workouts to share with all of you. Cool, right? Today I thought it'd be fun to put together a little circuit workout that I'm planning on incorporating into my own workouts later this week. It's actually slightly adapted from my previous stability ball circuit, as well as a circuit that I like to incorporate with some of my training clients.
As you guys know, I'm slowly adding in some light strength training, and I really do love me some circuits…especially when they're timed. This way, you already have an idea of how long your workout is going to be and you have something to keep you from sitting and resting too long.
Like in this case, you can plan on each round of today's timed stability ball circuit to take you about 9-10 minutes.
Add in your 2 minute rest after each circuit, repeat two times, and you've got your workout finished in less than 40 minutes.
As always, be sure to maintain proper form throughout each of the exercises, focus on steady breathing, and choose a weight that you will be able to work with for each of the 50 second work intervals.
To help, here are some picture demonstrations for each of the exercises listed above.
Have fun!!
**************
Dumbbell Chest Press Stability Ball           Dumbbell Pullover on Stability Ball
Skullcrushers on Stability Ball           Alt. Dumbbell Hammer Curl Stability Ball
Stability Ball Roll Outs                                    Stability Ball Roll Ins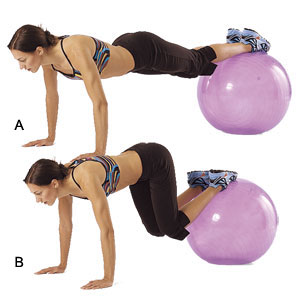 Shoulder Press on Stability Ball      Rear Shoulder Dumbbell Row Stability Ball