Well, Lucas and I successfully survived our first duo trip out of the house yesterday!
My and my little man trekked it out to the grocery store, and even though it may have wound up taking us over an hour to actually get out the door, the trip went super smooth. He slept pretty much the whole time we were out, making for one happy mama.
By the time we got back home, I thought for sure he'd be fussing and ready to eat…but nope. He was still passed out.
Tough life, isn't it?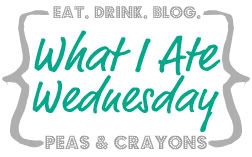 So I actually have a WIAW post for you guys today! This is everything, as always, that I had on Tuesday, so feel free to take a peek!
Breakfast
Cereal combo once again (Multigrain Cheerios + Great Grains Cranberry Almond Crunch) with unsweetened vanilla almond milk and banana slices + an iced coffee.
Yep, this is pretty much how things look around the living room these days. A random assortment of food, baby books, thank you cards, nipple cream, and baby stuff. That's how I roll right now.
Mid-Morning Snack
Our friend Andrea stopped by over the weekend (I think? I can't keep track of my days) and dropped off some homemade mini quiches and mini donut muffins. Both are absolutely delicious, and I love how I can grab them both quick for a snack. I had a mini quiche yesterday morning, as well as an unpictured mini donut muffin. SO good.
Lunch
Last week, my mom dropped off a variety of meals for us to have and/or freeze, with one of them being some eggplant parmesan. She told me that she didn't really love how it turned out (it wasn't technically homemade and didn't have her awesome sauce) but I said I'd take it anyways.
Unfortunately, she was right and it wasn't super spectacular. There was a lot of breading so I tried to eat up the eggplant and leave a bunch of the other stuff behind. Ahh well, whatcha gonna do?
Since lunch was sort of a bust, I wound up back out in the kitchen and snacked on some baby carrots with hummus and then an iced oatmeal cookie Clif Z Bar.
Mid-Afternoon Snack
A few hours later I was hungry again so I snacked on (way more than I should have) some of my favorite Target trail mix. Stuff. Is. Dangerous.
Dinner
Last night my in-laws came over for dinner so Jay took care of cooking up a quick dinner of cheeseburgers on the grill and some Alexia tater tots. Another simple, yet delicious meal from the grill. YUM.
Dessert
Didn't wind up snapping a photo, but a enjoyed a couple scoops of ice cream to top off the evening. Jay and I have actually been enjoying our fair share of ice cream these days…I'm pretty sure we wind up eating it more days than not. Hey…oh well.
Time to go snuggle with my Lucas…I'll catch you guys later!