Okay, I seriously almost forgot just how awesome morning workouts are. I am feeling so, so good this morning!
For the past few weekends, I start to get in a real groove with the workouts but then come the work week, it's out the window. I decided last night to make a solid attempt to commit to just 2-3 morning workouts per week and I kicked it off this morning with a little cardio kickboxing. Aww-sum. Not so awesome is the whole continuing-to-sweat thing even after you shower. Gross.
So we'll see whether or not I can really stick to it, but I'm feeling positive. Then again, maybe that's still the endorphins talkin'.
Mooooooving on…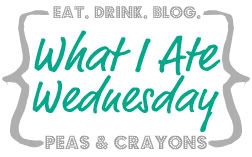 It's another WIAW, featuring most of Tuesday's eats. I say most because I didn't capture pics of everything BUT, I did feel like switching it up a bit for fun today. So since none of my meals were really all that mind-blowing yesterday, I decided to sub in what I really
wish
I had eaten instead. And now I'm craving all. the. things.
Breakfast
A Greek yogurt with Kashi Go Lean Crunch + a banana + iced coffee.
The coffee was actually my first attempt at the Starbucks VIA iced coffee – it was okay, didn't love it.
But I really wish I had this breakfast from Sarah's bachelorette party a few years ago.
One of the best breakfasts I've ever eaten. No kidding.
Mid-Morning Snack
I wound up eating a couple spoonfuls of peanut butter out of my stashed jar at work. Nothing exciting, but it did the trick and held me over 'til lunch.
Lunch
A nice, fresh salad enjoyed al fresco.
It had all the usuals – veggies, avocado, grilled chicken, honey balsamic dressing. And, actually, I don't think I'd even trade this in for another meal so that's sayin' something.
A little while later once I got back to my desk, I ate one my leftover Texas Roadhouse rolls with all sorts of their incredible honey cinnamon butter. Or whatever the heck it is.
All I DO know is that when I searched for copycat recipes, apparently they put confectioner's sugar in that stuff. No wonder I'm addicted to it.
Afternoon Snack
I actually wasn't totally hungry for an afternoon snack but I was still in the mood for some chocolate, so I snagged a bag of Skinny Cow dark chocolate dreamy clusters.
Those things are. so. good.
Dinner
I did a really lame job planning dinners this week, so it'll be interesting to see what we come up with. Last night, I had some leftover Crockpot Stuffed Pepper Soup and veggies from Monday and called it a meal.
But I really wish I had this amazing crab dip from Tautog's in Virginia Beach. God, that place was good.
Followed up with this dinner from Creo'.
Now THAT would have really hit the spot.
After Dinner Snack
I was still hungry a couple of hours later so I made myself a bowl of cereal (Kashi Island Vanilla) with almond milk.
But if we're being real, I really wish I had something big and chocolaty like this incredible dessert.
That thing was seriously unreal. I need to go back for that, like, yesterday.
So if you had to choose, what do you wish you could eat today??